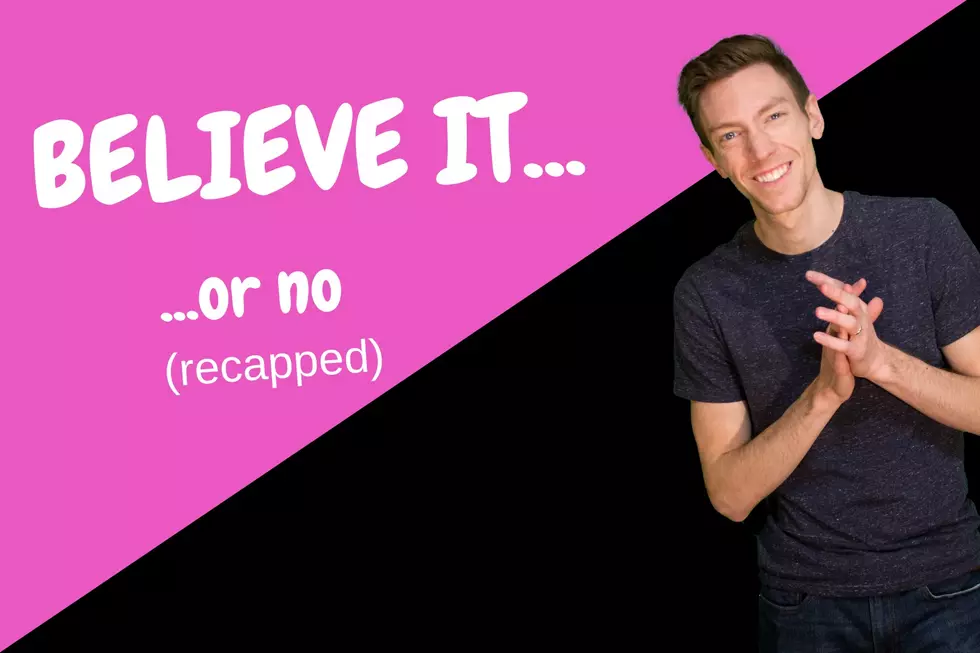 Believe It or No: A Recap of This Week's Fun Facts (July 17)
Adam Rozanas / Townsquare Staff
Every weekday about 3:25pm, Adam shares some facts and trivia in a fun little segment called Believe it or No (the Minnesotan version, you could say, of Ripley's Believe it or Not!).
Here are this past week's fun facts and trivia from Believe it or No:
Russian cosmonauts used to carry special pistols to space . . . so they could shoot any bears and wolves that attacked them when they landed in Siberia. (Source: Wikipedia)
The first recorded use of the f-word in human history was in 1528, when a monk wrote it in the margins of a book to express how much he disliked an abbot. (Source: Gizmodo)
More than 18,400 people have been relocated with the U.S. Federal Witness Protection Program . . . and not a single one of them has been tracked down by the criminals they were hiding from. (Source: CNN)
Even if you don't win a medal at the Olympics, there's a consolation prize for the athletes who finish fourth through eighth.  They all get a certificate called an OLYMPIC DIPLOMA. (Source: Wikipedia)
When Diet Coke debuted in 1982, it was the first time Coca-Cola used the word "Coke" on any of its products. (Source: NY Times)
Superman was originally supposed to be a BAD GUY.  Jerry Siegel created Superman in 1933 for a short story called "The Reign of the Superman".  A year later, he decided it made more sense for him to be a hero. (Source: Wikipedia)
The domino in the Domino's Pizza logo has three dots representing the company's THREE locations in 1969.  They planned to add a dot for every new store . . . but they expanded way too fast to keep up.  Now they have about 17,000 locations worldwide. (Source: CNN)
The heaviest dog ever was a St. Bernard named Benedictine who weighed 367 pounds. (Source: Wikipedia)
"Kokomo" by the Beach Boys is about a fictional place.  There's no island "off the Florida Keys" or in the Caribbean with that name. (Source: Wikipedia)
Denver was originally awarded the 1976 Winter Olympics, but in 1972, the people of Colorado overwhelmingly voted not to spend tax dollars to have the Games there. The 1976 Winter Olympics ended up in Innsbruck, Austria instead. (Source: Wikipedia)
Join Adam weekdays around 3:25pm for Believe it or No!
Enter your number to get our free mobile app
How To Tell If You Are 'Up North' in Minnesota