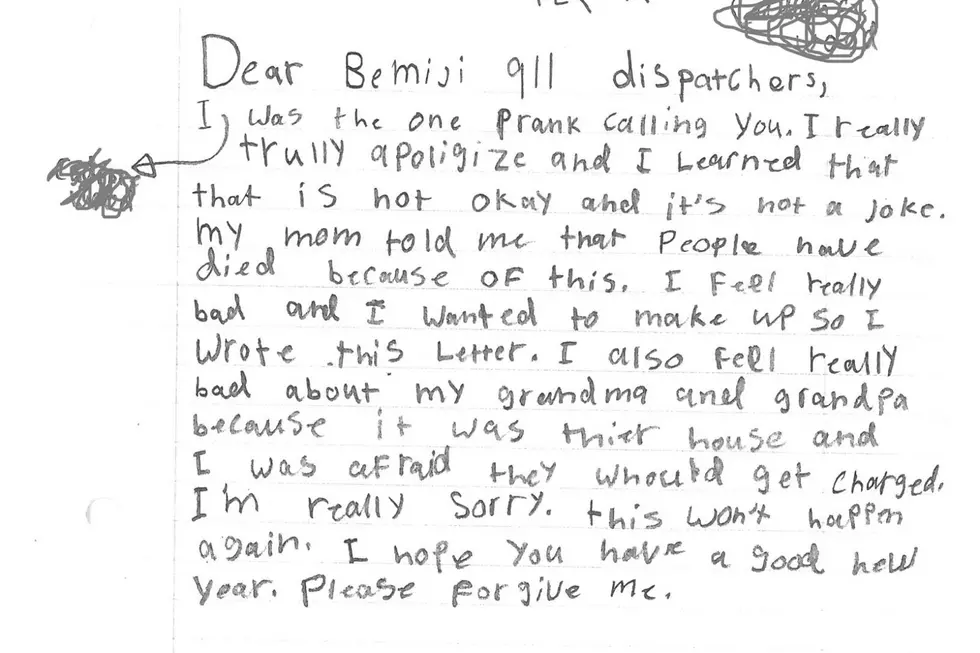 Young Prank Caller Sends Bemidji 911 Dispatch Apology Letter
Beltramic County Sheriff's Office via Facebook
The young prank caller from Missouri was visiting grandparents in Bemidji over the holidays.
The Beltrami County Sheriff's Office last Friday, January 17 shared a hand-written apology letter they received from a young prank caller, recognizing the culprit's remorse and taking the opportunity to make a learning moment of it.
"Dear Bemiji 911 dispatchers," begins the letter in a child's scribbling, "I was the one prank calling you. I really trully apologize and I learned that is not ok and it's not a joke." The transgressor goes on to share the cause of his (or her) conviction.
"My mom told me that people have died because of this." The letter continues, "I also feel really bad about my grandma and grandpa because it was their house and I was afraid they would get charged."
The letter concludes, "I'm really sorry. This won't happen again. I hope you have a good new year. Please forgive me."
According to the Facebook post's caption, the Beltrami County Sheriff's Office sent a letter back accepting the apology and letting the writer know they are "still a friend" of the office. They also took the opportunity to make a learning moment of the situation. "Parents, please talk to your children about appropriate 911 use. Also know that the cell phone you don't use anymore and hand off to a child as a toy can still call 911 if it can power on."
Comments on the Facebook post showed overwhelming support for the child's parents and the sincerity of the youngster's letter. A couple even shared similar experiences of their own:
"My puppy called 911 on my hubby's phone this summer," shared Angie. "His wet nose activated the "emergency call" function on the lock screen. Talk about embarrassing when the officer showed up making sure we were okay. You could see my dog's wet nose mark on the screen. The officer had a little laugh, but I still felt bad about it."
"My youngest son did this once following a presentation at school," Laura added. "I think it was mostly out of curiosity and in his young mind, a test to see if it actually 'worked.' Great news...it really does work!! The deputy who came out to our house was very patient with him and did a great job explaining to him why it's not ok to call when there isn't a real emergency. Thank you to all for your hard work and dedication to our community."
See the full Facebook post with comments here.
Have you ever made your kid(s) write an apology letter or apologize in person after they did something they shouldn't have, big or small?
Enter your number to get our free mobile app