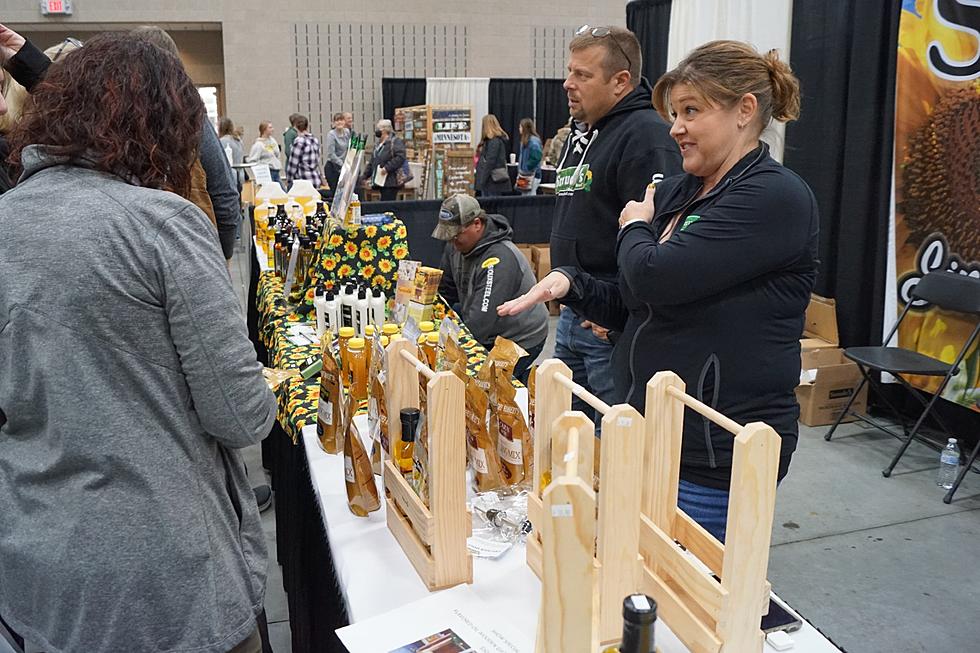 Take An EXCLUSIVE Look At ALL The Vendors Appearing At St. Cloud's Made in MN Expo! [GALLERY]
Sarah Mueller, WJON
The 9th annual Made In Minnesota expo is hitting the River's Edge Convention Center in St. Cloud, Minnesota on November 18th. Admission to the event, which runs from 10 a.m. to 4 p.m., is FREE for all.
All of the nearly 100 vendors at Made In Minnesota either are Minnesota-based or make their products in the Land of 10,000 Lakes.
Here is a complete list of ALL of the vendors  you can look forward to seeing this year!
(In alphabetical order)
ALWAYS CREATING DESIGNS
ADVANTAGE CHIROPRACTIC 
At Advantage Chiropractic, we provide chiropractic care and nutrition services to help you reach optimal wellness. We look forward to caring for you and your family!
ALL TIED UP 
Our love for the outdoors grew from our youth. Born and raised in Minnesota we grew up camping, hiking and fishing. This all started as a side gig and now it is my full time job and I am loving it.

We hope you enjoy catching fish with our jigs and thank you for stopping by.
B BEAUTIFUL 
BITTERSWEET HAVEN FARM
Here at the Bittersweet Haven Farm we practice sustainable agriculture
BITTERSWEET HAVEN FARM ON FACEBOOK 
BLUE BIRD MARKETING
BRAYDEN'S PAWFECT TREATS 
Brayden is a eleven-year-old boy diagnosed with Autism, ADHD, and Anxiety. These issues cause him to struggle with finding coping skills that you and I find extremely easy in our daily lives. That was until he picked up a mixer and started making dog treats. He started a small business in 2020 with just a little parental help. It has helped him learn new social skills, a way to focus/learn, stay on task with deadlines, and get to know dogs, which has created a calming environment for him.
Brayden donates part of his earnings to Simply Love International, founded by Erin Cannon, which supports children and orphans in a village in Tengeru, Tanzania. He also donates another portion to the local Human Society, as well as donations of gift baskets for fundraising and other events in the area!
CAOUETTE CREATIONS
Homemade treats from a licensed cottage food producer
CAOUETTE CREATIONS ON FACEBOOK
CHAR DEMARAIS SIGNS 
I love to create and inspire! Book a private party or get a kit to-go! I also sell finished signs.
CHEF TIM'S EXOTIC PENS
Chef Tims Exotic Pens creates custom pens from rare and exotic woods from around the world, stocking over 90 woods as well as acrylics, corian, and creative laminate woods of different species, also featuring sacred pipe stone(catlinite)pens from Pipestone Minnesota, pens for the chef, turned from exotic fruit and nut woods, 5000 year old cedar pens from mount St Ranier, and 30,0000 to 50,000 year old Kauri wood pens from New Zealand carbon dated and certified. We also make beautiful olive wood pens from Bethlehem Israel, all pens are hand turned and each one is unique featuring creative yet beautiful profiles that are a pleasure to look at as well as to use.
CHERISH DESIGNS BY KRIS LANAE 
Kris Lanae shares her love of uplifting phrases by creating unique and fun jewelry.

 

Her career in design has been filled with highlights including art licensing with Demdaco & Creative Coop, designs published in magazines, wholesale direct to boutiques with her handmade designs and teach classes.
CHRISTINE'S CHEESECAKES 
When I was little, my mom used to tell me all about how "everyone has something that they're good at." And that always made me a little nervous, because I was pretty good at those latch-hook rug kits, and what if that was my "thing I was good at" and that's all I got. No offense to latch-hook rug enthusiasts, but I think that would be a pretty crappy way to go through life.

 

But what my mom DIDN'T tell me is that some people have something that they're GREAT at. And for me, that's making cheesecake. (That sounds really braggy, but lighten up – it's cheesecake. I'm not claiming to be great at world peace or cancer curing. Plus, it's true.) So let's get together. I'll be great and you'll be happy. (And so will my mom.)
CHRISTINE'S CHEESECAKES WEBSITE 
COUSINZ CRAFTZ 
Cousinz Craftz is your one of a kind craft shop.
CLEAN LAKES MN LLC
MN Apparel for MN Waters!
15% of profits donated to protect MN waters!
#CleanLakesMN
COCOA BEAN AND CO. 
 Minnesota/Wisconsin Fiber Arts
DAN'S WOODSHOP 
Canoe Paddles, Cribbage Boards, Ring Toss Games, Bottle Openers, etc
DANIQUE BEAUTY AND THE BEANS 
Handmade soaps and beans to bar chocolate.
DANIQUE BEAUTY AND THE BEANS ON FACEBOOK
DESIGNS BY DIANE 
DORIS PROM
E&I CUSTOM WOODWORKING LLC
E & I Custom Woodworking L.L.C is a made to order cabinet and furniture shop.
EICHERS HOBBY FARM 
At Eicher's Hobby Harm, we offer all-natural skin care products which are handcrafted from scratch, made primarily from goat's milk, and preservatives-free. Our premium collection includes handcrafted soaps, face and body cream, and lip balms.

 

Whether you prefer unscented soaps or those with hints of lily of the valley, lavender, cedarwood, or lilac, we have the perfect goat milk soap that suit your personal taste and skin needs. We use the traditional cold process method of combining home-rendered lard with lye when making our products. We also do our own labelling and packaging for all our goat milk soaps and other products to add our personal touch.
EICHTENS CHEESE 
Eichtens Cheese is a third generation family farm located in Center City, MN since 1976.

 

Home of the European Style Goudas, Tilsit, Gouda Spreads and Gifts.

 

Come and shop our store for artisan cheese, meats, specialty foods, premade gifts and custom gifts (Make your own gift to ship)!

 

Our Goudas and Tilsit Cheese are made with real pasteurized cows milk, European Culture, Vegetable Rennet and aged in our own aging rooms for over 60 days.
FALCON NATIONAL BANK 
A community bank founded on, "Service that Soars Above the Rest." Falcon National Bank is Member FDIC
FARAWAY FARM SOAP 
Why handcrafted soap? Working from sun up to sun down in the dirt meant I used A LOT of soap. Early on I had a very bad reaction to commercial "soap" (think itching, scratching, and ultimately the need for anti-histamines). Since then I've discovered that commercial soap is actually detergent. Yuck!

 

No wonder my skin rebelled. Not wanting to ever have a reaction like that again, in 2012 I made my first batch of handcrafted soap and have been obsessed ever since! I found that I love to combine oils, butters, scents, colors and exfoliants in just the right combination for every skin's special needs.
FIRE PIT CHAMPION 
Fabricated on the Iron Range in Northern Minnesota, Fire Pit Champion tools are handmade with pride by local artisans. Locally sourced materials are used throughout. Quick and friendly USA support for any questions or concerns.
5R ALPACAS
At 5R Alpacas, our alpacas are not just animals, they are our "babies". We have become attached to all of them and enjoy their unique personalities. We purchased our dams and sires with great care to acquire the best of health, conformation, and fiber so that we can offer you the best quality in their offspring.
FOUR SEASONS CONTRACTING
We take pride in providing professional roof replacement services to the Sauk Rapids, St. Cloud, MN and surrounding area's. Our satisfied customers have always experienced superior craftsmanship, quality products, and old fashioned customer service, as we offer higher quality roofing materials and experienced installation ensuring longevity in both, durability & beauty.
FROM ME TO YOU CREATIONS 
We make customized cutting boards, wooden signs, furniture, t-shirts
FREEZE DRIED FAVES 
Luxury Candy, Sweets & Treats!
GNOMES R US 
I make fun gnomes, and in order to support my habit, I have decided to sell them!
GOLDEN HILL DOODLES
We are a reputable Doodle Breeder located near St. Joseph, Minnesota. We are a short one hour drive north of the Twin Cities and only three miles off of Interstate I-94. Golden Hill Doodles is a family run and veteran owned business that specializes in standard sized Goldendoodles, Bernedoodles and Golden Mountain Doodles.

We are proud to say that we have many repeat buyers and get many glowing referrals from our buyers to their friends and families looking for our kind of pups.
GOOD SMELLS 
Minimal ingredients derived carefully from natural elements
HAPPY PORCUPINE 
Custom made vinyl decals, heat transfers, or screen printing available!
HEARTLAND SECURITY
Heartland Security serves and protects over 8,000 families and businesses in the Midwest. Our success is based on our understanding that our clients not only want to feel secure in their home and businesses, but know their security systems are backed with commitment to deliver long-term value through exceptional service, superior and reliable equipment, and competitive pricing.

 

Heartland Security is owned by 13 rural electric cooperatives in central, western, and southern Minnesota and northern Iowa. Our employees live and work in the communities that we serve.
HEAVENLY TREATS 
Back in 1980 while attending my first staff Christmas party as a new teacher, the principal (who happened to be a nun) brought her homemade toffee to share; it was a little slice of heaven! I was determined to make this delectable confection adding my very own touches. Over the years, I've created unique delicious buttery toffee.

 

Our Heavenly Treats are handcrafted in small batches using all natural ingredients. Crisp, delicate, and the thinnest toffee you will ever experience. I know you'll enjoy our gourmet toffee and I hope you share this delightful moment with others.
HEDLUND DECOYS
HENNUM HOMEMADE 
Homemade Salsa, pickles, and popcorn. We also have a fresh squeezed lemonade stand
HOPE AND HEALING
JD'S SALSA 
JD's Salsa Seasoning Mix is the perfect blend of the all natural spices needed to make a variety of Fresh Homemade Salsa Recipes in 30 seconds!! 1 quart size jar of JD's is enough to make 25 - 30 two cup servings. Great Savings compared to expensive store bought brands, Hot or Mild, order yours now!!
JESSY'S CUPS CREATIONS 
I do sublimation tumblers mostly, but can do other things as well. I have a wide variety of tumbler designs I do and I can even customize them for you.
JOHNSON 3D CREATIONS 
Custom 3D printed items
JWT HEAVENLY SPRINGERS 
JWT HEAVENLY SPRINGERS ON FACEBOOK
KINDER COFFEE LAB 
Fresh roasted coffee delivered to your door.
LAKE THINGS 365 
Casual comfortable lake & midwest themed apparel/gifts
L&S HANDBAGS 
Each bag is hand cut and home sewn by a mother-daughter duo, making each one completely unique.
LGS ELECTRONICS
We are your local Buy-Sell-Trade store specializing in Retro video games, Cell Phones, and Laptops.
LITTLE ROCK DESIGNS 
Little Rocks Design:  I'm a sole survivor triplet (born at 24 weeks and 1 lb 11 ounces).... so I share my passion with God's gift of 2 brothers in heaven (3 little rocks) ... I always found joy in rock hunting ....and I grew up on Little Rock Rd

 

Becoming  a sticker maker is the product I have chosen to share the joy of living outdoors as much as possible including:  hiking, kayaking, canoeing, camping, campfires and fishing.  The woods is my happy place and fishing / hunting are always the topic at our house.

 

Get outside.  Grab your favorite water bottle with your favorite stickers and enjoy what nature provides.

 

I am the artist and shop owner behind Little Rocks Design!

 

I design, create, photograph, and ship the items you see here! God had a plan for me, fueling my passion for business and creativity.
LOU LOU CRAFTS 
Hi I'm Nadine Race owner of Lou Lou Crafts! I have a wide selection of hand made items!
LUMPS OF CLAY STUDIOS
Playing with clay in Minnesota. In a nutshell I'm organized chaos.
LUTGEN COMPANIES 
Your Exterior Experts Since 1983
MAD HATTER DESIGNS
We are the proud owners of Mad Hatter Designs, and are a family-owned business operating in Saint Cloud, MN.

 

Our business started off like several others… By watching a YouTube video. I came across a video of a CNC laser engraving several materials and decided to get my own cheap little laser.

 

After a few months and several projects for the family and friends we decided to start our own business. Just like that Mad Hatter Designs was born. We decided on Mad Hatter Designs because we wanted to stay true to ourselves.
MCKENZIE INNOVATIONS 
The Leader In Ice Spear Fishing Products
MCKENZIE INNOVATIONS ON FACEBOOK
MISTER DISTER BBQ  
Minnesota based craft, homemade bbq sauces & rubs.
MN BRAIN SOLUTIONS 
MN Brain Solutions was created from a strong desire to support those seeking a lifestyle of wellness. We believe that when we give our brain the opportunity to correct itself, multiple aspects of life are improved, and we are able to move forward in a healthy and balanced way.
MR. B'S CHOCOLATES 
In addition to all your nostalgic favorites — truffles, caramels, fruit creams, and the like — Mr. B's chocolatiers hand paint few-of-a-kind masterpieces.

 

A flock of roosters with colorful feathers? We do that. Deep red roses and pastel butterflies? We do that. How about a three-dimensional Christmas tree? You guessed it. We do that too.

 

From buttoned-up business gifts to creative personal expressions, Mr. B's CHOCOLATES has exactly what you need.
NATURAL WELLNESS ADVANTAGE 
Our mission is to support those seeking a lifestyle of wellness. When we give our bodies what they need, each system is able to do what it was created to do in a healthy and balanced way.
NELSON BROTHERS/CUTTING EDGE CATERING 
NORDHAUSEN FARMS
Bruce started canning with his grandmother when he was young. Every year they would get together and pickle several bushels of cucumbers over Labor Day Weekend. One year, they decided it was too much work to continue doing this all on one weekend and they stopped pickling all together. Bruce got tired of buying pickles in the store, so he picked it back up and has been pickling cucumbers every year since!

 

You'll find a derivative of this old family recipe still being used in our dill pickles today.  We have also adopted some of our other favorite grandparent recipes in our Grandma's Salsa and Grandma's Apple Butter.

We started our family business adventure in 2021.  We currently operate as a registered cottage foods producer through the state of Minnesota. Most of the products we process have either been grown in our own garden or have been acquired from local farms in the area. When it comes time to canning foods, it is all-hands-on-deck with our entire family to get everything completed while it is at the freshest state possible.
PET EVOLUTION 
Helping Pets Live The Good Life
Grooming - Self-Wash - Healthy Food - Mobile Nail Trims
PETS PLUS 
Pets Plus started in humble beginnings at Jim and Mary's garage in 1992, but in 1998 the Joys moved into their Bemidji location where it still stands today!

Located in beautiful Bemidji, nestled in Minnesota's beautiful north land (and it's source if inspiration of many of their products), Pets Plus has expanded multiple times to fill customers needs while still remaining grounded in their roots dedicated to treating each customer with the care each customer deserves.

 

With over 4,500 square feet of retail space and over 5,000 square feet of warehouse space, Pets Plus is ready to supply of their customer needs including our North Winds Premium brand. From dry food, wet food, freeze dried, frozen, and everything else a customer may need, Pets Plus is your solution for all of your pet supply needs!

 

Pets Plus is dedicated to carrying high quality pet food, chews, treats, supplements, toys, beds, litter and more! Stop in and ask us how we ask you today or reach out to us through our website and we'll be sure to find the match for your and your pet.
PRODIGY PUPS 
We offer Obedience Training for all dogs as Private in home lessons and board and train programs.
PRODUCE ACRES
Our seventy-five acre farm relies on nutritional value and quality of our products not simply the quantity of our products.  With generations of farming expnce behind us we believe we provide the best value produce on the market.
Produce Acres moved from thought to reality in the spring of 1983 with the planting of asparagus, strawberries and raspberries.

 

When we started farming fruits and vegetables, we did as we were told; spray for weeds, insects, fungus and blight as the calendar dates came up.  The first few years we had the chemical sprayer in the field every week and some weeks twice.  With all our spraying we still had weeds, insects and blight.

 

In 1991 we started using bacteria friendly fertilizers on our farm.  We have since left the chemical sprayer in the shed and purchased an air blast sprayer for spraying foliar fertilizers.  Since then we have noted healthier looking crops along with a significant increase in yield from our fields.
In 2012, we officially became a certified organic farm.
RAE FAMILY FARM 
In 2018, we purchased a ten acre plot of land in the outskirts of Monticello, Minnesota. Previous to us, the land was used for horses. It had a big brown farm house and some horse stalls in the pasture - it even had a little coop for quail. A new chapter in our lives had blossomed. We started with a small flock of five. It was from then on that our love for chickens grew. 

By 2020, we had grown in the number of birds we had from our first five, to a little over 200 chickens. Through trial and error, we were figuring out what was best for our growing flock. We even decided to get three little goats! For sure we were on our way to a successful hobby farm.

Now, in 2022, we have over 400 chickens and seven goats. Our goal is to provide only the best quality eggs and vegetables to our local community.
RED HIVE HONEY 
Red Hive Honey is a family owned apiary. We produce handcrafted, artisan high quality Wildflower Honey!
RED WING SHOES - ST. CLOUD LOCATION 
Our iconic brands are all rooted in the same, powerful belief that what we do at Red Wing Shoe Company makes a lasting difference in people's lives. While our assortment and expertise have grown since our founding in 1905, our legacy of quality will never change.
RENEWAL BY ANDERSEN 
The full-service window replacement division of 120-year-old Andersen Corporation.
RIDGE CONSULTING & THERAPY 
I'm Kelly, a Licensed Professional Clinical Counselor and owner of Ridge Consulting and Therapy. I'm experienced in motivation and I'm committed to providing both adult men and women of all ages learn how to build healthier relationships with themselves and their bodies.

 

My therapy approach focuses on targeting the strongly held beliefs and habits that keep you from moving forward emotionally, mentally, physically, and spiritually.
ROCKIN' ROGUE 
Rockin' Rogue is a mother and daughter team that design one-of-a-kind clothing!
RUSTIC RIVER GEAR
Here at Rustic River Gear we strive to create the best possible product that will last forever.  Each of our products use high quality materials, solid brass hardware, and are inspected multiple times before they leave our facility to ensure quality.

On our waxed canvas bags, totes, satchels, duffles and outdoor goods, we use solid brass hardware and rivets, waterproof leather, and heavy duty cotton webbing.

 

All of our zippers are sewn and top sewn for added strength, and raw edges on the inside are bound wherever possible to keep the bag free of fraying yarns from the waxed canvas, and the rivets we use are double capped rivets which eliminates any abrasive or sharp edges to ensure longevity of the end product.
ST CLOUD AREA ROLLER DERBY
SEED TO GLASS
We are a Greenhouse & Botanical Oasis. Providing quality products, alternative ideas, info & fun.
SHAKY RIGS 
We are a small family business started out of necessity.  We were started when Parkinson's Disease caused employment issues for me.  We started Shaky Rigs in order to keep me busy and as therapy.  Handling all of the small components helps me with my dexterity in my fingers.  It also keeps me involved in a pastime I love, Fishing.

 

My whole family helps me with my battle with Parkinson's.  It only makes sense that our family Business would help support Parkinson's research and people who suffer from this disease.   We Donate 10% of all sales are donated to the APDA (American Parkinson's Disease Association).   I would like to thank you for taking a look at our products and please take a moment to consider ordering product  and helping my family and Parkinson's research.
SIDESHOW BLOODY MARY MIX 
Our goal was to find the perfect blend of ingredients matched with the perfect consistency. Sure, our Side Show secret recipes utilize some typical bloody mary ingredients, but several surprises as well. After experimenting with and testing over 75 different recipes, we found our winning formulas.

The secret is in the blend of over 13 ingredients, used in each of three varieties—from Strongman to Fire Breather. There is a flavor for every taste. So go ahead and seize your Side Show! And always drink authentically.
SIMPLY CRAFTING CO. 
Homemade up-cycled pallet wood hand painted signs for every occasion, holidays and every day decor.
SMG HOME FRAGRANCE 
SMG Home Fragrance was founded on the fusion of quality fragrance and safety. Because it's not a give and take - it's all or nothing.

 

SMG Home Fragrance is committed to providing the best home fragrance experience without sacrificing safety. We understand that your home is a sacred space and we want to help you create an environment that not only smells amazing but also prioritizes the well-being of you and your loved ones.
SMUDE SUNFLOWER OIL 
We (Tom and Jenni Smude) started our enterprise in 2010 after a rough year for crops in 2007. Why sunflowers? We started looking for a drought-tolerant crop and this is where it led. 

Our first goal was to sell by-products and the oil bulk by semi-loads. Three months later the we were faced with a hard choice when the price for bulk oil fell. So, with a positive mind, we decided to start selling retail oil on March 10th, 2012. 

The word spread about the new product and soon retailers were calling us! Now our products are across the Midwest in retailers and hometown shops. The oil is also available online which ships across the country. 

We would like to thank all of our customers, new or returning and loyal, for your support. Without you we would not be where we are today!
SOAPY TOADS 
We make soaps, shampoos, lotions, gift baskets, special orders, orders for events.
SOLID RESULTS K9 
I am Corey Doebber I have lived in St Cloud, MN all my life. Authorized Dog Guard dealer since 2007
SPRING WOOD 
SUMMER LAKES BEVERAGE 
Summer Lakes Beverage - Local makers of all-natural, handcrafted cocktail mixes!
SUMMER KNEES BOOKS
"Ah! Those are just summer knees!" Our grandmother would say this to us whenever she saw the bumps, bruises, scabs, and scars on our knees. Some days we also had summer elbows, chins and feet!

 

These "summer knees" marked our adventures, exploration, and a whole lot of fun! But they were also reminders of our tears and mistakes. When my sister and I set out on this venture of creating a children's book publishing company, we knew we were taking a risk and that there would be several bumps and bruises along the way - all part of the adventure.

 

At Summer Knees Books, like our knees, we believe in imperfect works of art and working to make our and our children's dreams come true. Our first series of books: "books for kids written by kids" are stories told and written by our kids. MJ's first book was written with a good friend of ours and once she wrote a book, her little brother had to follow too! They both have inspired us to write books and tell the world our stories!
SUPERIOR RESIN 
Handmade custom resin artwork
THE SYRUP RANCH
Producers of pure maple syrup and all things maple!!
T-SHIRT ENVY  
T-SHIRT - ENVY SCREEN PRINTING & APPAREL PROVIDES PRINTING SERVICES FOR APPAREL
TELLY MON GIFTS
My name is Telly Mon Local artist from Negril Jamaican all the way to Sauk rapids MN
TRIPLE H ACRES 
Our goal is to grow the most nutrient-dense food without using chemicals, antibiotics, GMOs, corn and soy, and raising our animals humanely. Please let us help you get healthy, nutritious meals to your table. The key is to start with one thing and add to it after you feel comfortable with that step. Doing everything at one time can feel very overwhelming and cause you to feel defeated. We are here to help you to take steps to a healthier you. Please contact us for grass-fed beef, Berkshire pork, chicken, eggs, maple syrup, honey, freeze-dried foods, and soaps and lotion made from the tallow of our grass-fed beef.
VIDA PRESSED
We have been passionate about health and wellness for the past few years and have been making our own forms at home from cold pressed juices, teas, and wellness shots. We strongly believe and have researched how plants can help heal our bodies and be a better alternative to the growing pharmaceutical drug industry. Cold pressed juices are an easy option to replenish vitamins and minerals your body craves while also keeping you healthy.
VIKING LOG 
In 1979, Viking Log Furniture started to manufacture rustic bedroom furniture and waterbeds. Starting in about 1990, we began manufacturing pine and hardwood futons, and solid oak bedroom furniture. After that, we added rustic futon frames and even more log furniture in 2002. Today, we manufacture rustic log bedroom furniture, log bunk beds, rustic futon frames, log dining room furniture, game room furniture (including log pool tables), log kitchen cabinets, rustic bathroom vanities, and more.
VINE STREET CREATIONS 
Nova DuBois has spent her life among children's books and elementary-aged children.

She began her love of young literature in her early teens when volunteering at her home town's library where she held Saturday morning storytelling hour and assisted in maintaining the children's book area.

This passion resulted in pre- and post-graduate degrees in library science. She enjoys bringing stories to life for children and watching their imaginations soar.
WELL AND COMPANY 
From wellness to urgent treatments, WELL & Company offers patients a tailored approach to healthcare. Whether you're here to find a provider who cares about your health history, to restore your skin's radiance or to learn to create boundaries for healthy communication, we have an affordable, accessible and individualized approach to suit you.

 

We promise cost-transparent and affordable medical services without the long wait times or paperwork. A monthly membership ensures you and your family get the care you need within 24 hours.
WHITE GOAT SKINCARE 
I have always hated the smell most soap leaves on your skin, it smells like a hospital and stays on your skin forever. For as long as I can remember I have been sensitive to fragrances. Hair spray, shampoo, perfume wreaking havoc with my sinuses sending me into a fit of sneezing, running nose and severe sinus congestion and headache. I was miserable. My solution, avoid all scents on myself and anyone around me.

​

A friend suggested I make some goat milk soap back in 2010.  I love how my skin feels when I use goat milk products without all the harsh chemicals.    The best part is people's reaction to the products, when they tell us about our products helping to make their skin feel better. I strive to use the best ingredients available to make the best products.
WOOD YOU TELL ME 
It's our 25th Anniversary! Wholesale, USA-made, family-owned.
WOODSY CREATIVE COMPANY
Custom Creative Projects • Promotional Goods • Laser Engraving • Signs
YOUR HOME IMPROVEMENT COMPANY