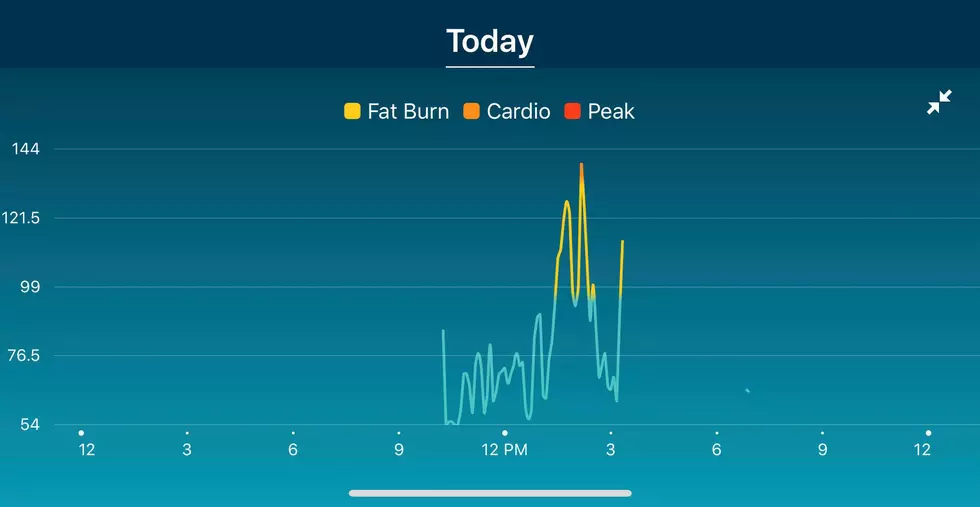 I Monitored My Fiance's Heart Rate During Vikings Overtime
Abbey Minke
A little background I come from a Patriots family, and am marrying a man who lives, breathes, and bleeds Minnesota sports. So we had a whole range of emotions pulsing through our house this weekend.
After the Patriots loss Saturday, the hopes weren't too high for a Vikings win Sunday. My fiance Cory even said right before kickoff he was mentally preparing to be let down, as he has in years past when the Vikings found themselves in risky situations.
I watched kickoff, and then headed off to the gym. A losing Patriots fan in a Vikings house during a game against the Saints wasn't an energy that was needed. When I came home it was the fourth quarter. I asked for a game update and got: "it's close, and I'm not all too hopeful".
Enter your number to get our free mobile app
Even our dog Norman was sensing some nervous tension from Cory, and immediately jumped in my lap to sit the remainder of the game. When the field goal was kicked to tie it up at the end of the game it was like all the air left the room.
Because I was curious, I attached my Fitbit to Cory's wrist. I could sense the nervous radiating off of him and I needed to know what his heart rate as at.
Immediately it was well above 60, when the Vikings got their first first down of overtime it spiked from 64 to 116. When the Viking scored their touch down, there was so much of a spike that the Fitbit couldn't keep up. It just showed two little lines and gave no number. Cory was pretty excited.
My sister married a super Vikings fan too, and he was just as nervous. Pacing, shouting and celebrating all took place as they watched the game. And my brother in law wrapped it up by saying, "dang it, now I have to watch the Vikings again this season".
The Vikings play the 49ers in San Francisco next Saturday at 3:30 pm for the NFL Divisional Round. Skol Vikes!
Abbey is on Mix 94.9 weekdays from 10 am - 2 pm.