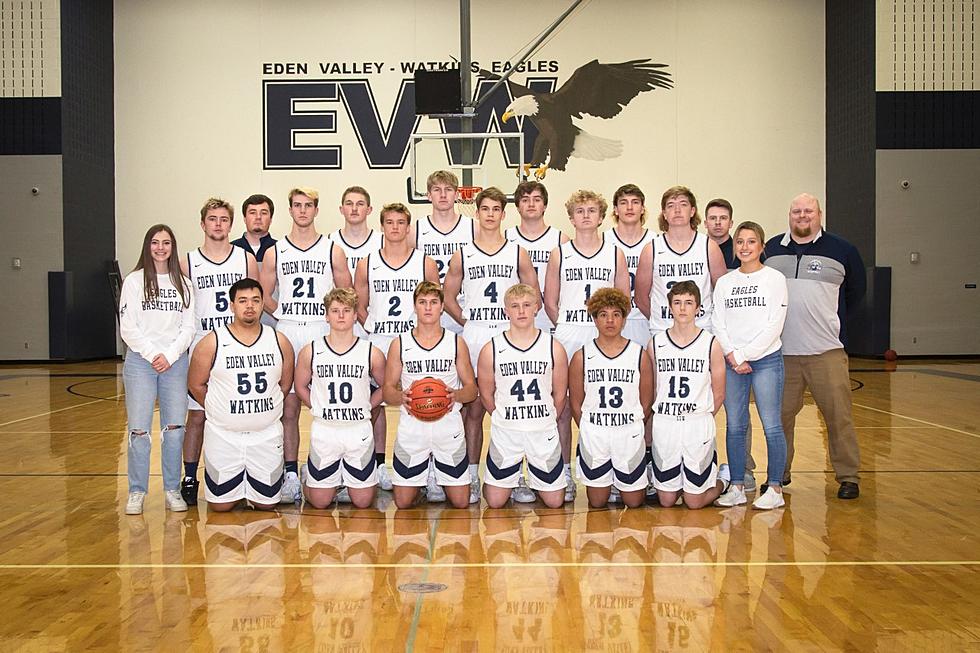 EV-W Facing Tall Task at State Boys Basketball Tournament
photo courtesy of Kelsey Magedanz
Eden Valley-Watkins won the section 3-2-A boys basketball title last Wednesday night over Redwood Valley 75-72 at Southwest Minnesota State in Marshall.  The Eagles posted a narrow 2-point win on a last second shot over New London-Spicer in the section semifinals.  Eden Valley-Watkins head coach Jake Anderson indicated they finally had the opportunity to run the last second play they've been practicing for years and it was great to see the team execute it so well.
Eden Valley-Watkins posted section wins over ACGC 74-55 before knocking off Litchfield 59-31.  The Eagles are familiar with state tournament appearances in other sports especially football where Eden Valley-Watkins advanced to the state semifinals in the Class AA State Tournament in November.  Anderson says this is the first state tournament appearance in boys basketball for the Eagles.
Anderson says it has been such a joy coaching these guys and he loves how competitive they are.  He says they've had drills in practice they had to stop doing because they were afraid someone may get hurt because of how hard they play.  Anderson says each guy pushes each other due to their competitive drive. He says the team chemistry and work ethic is tremendous.
Anderson highlighted 6'8 junior Noah Stommes who's averaging 15 points and 13 rebounds a game.  He says Stommes changes things for opposing offenses because of his ability to protect the basket.  Anderson says 6'4 sophomore Wyatt Moehrle has been playing really well of late, can shoot it and has been an attacking wing.  He says their guards have motors that don't quit led by point guard Landon Neiman.  Anderson describes Nieman as a triple-double waiting it happen.  He says Nolan Geislinger is always making hustle plays to help the team and Parker Schultz is one of their better defenders and is really quick.  Anderson says they also get regular contributions from Myles Dziengel and Caden Neiman coming off the bench.
Eden Valley-Watkins is 24-6, is unseeded in the Class 2-A State Tournament and will play top seeded Holy Family Catholic.  Holy Family is 27-2 and is led by 6'11 Division I recruits Boden Kapke and Collin Mulholland.
If you'd like to listen to my conversation with Jake Anderson it is available below.
Eden Valley-Watkins Roster
| | | | | |
| --- | --- | --- | --- | --- |
| 0 | Moehrle, Wyatt | F | 6'4" | 10 |
| 1 | Schmaltz, Carson | G | 6'1" | 11 |
| 2 | Neiman, Landon | G | 6'0" | 11 |
| 3 | Geislinger, Nolan | G | 6'0" | 11 |
| 4 | Haag, Nolan | G | 6'1" | 11 |
| 5 | Dziengel, Myles | F | 6'0" | 12 |
| 10 | Neiman, Caden | G | 5'7" | 12 |
| 11 | Kuechle, Aiden | F | 6'4 | 12 |
| 13 | Ballard, William | G | 5'8" | 10 |
| 15 | Dziengel, Lee | G | 5'11" | 10 |
| 21 | Schultz, Parker | F | 6'3" | 11 |
| 23 | Stommes, Noah | C | 6'8 | 11 |
| 24 | Bauer, Eric | F | 6'4 | 12 |
| 33 | Geislinger, Riley | F | 6'2" | 10 |
| 43 | Haines, Ty | G | 5'9" | 11 |
| 44 | Walz, Dylan | F | 5'9" | 10 |
| 55 | Reichert, Phillip | F | 5'11 | 12 |
Visit Marty, Minnesota in Pictures