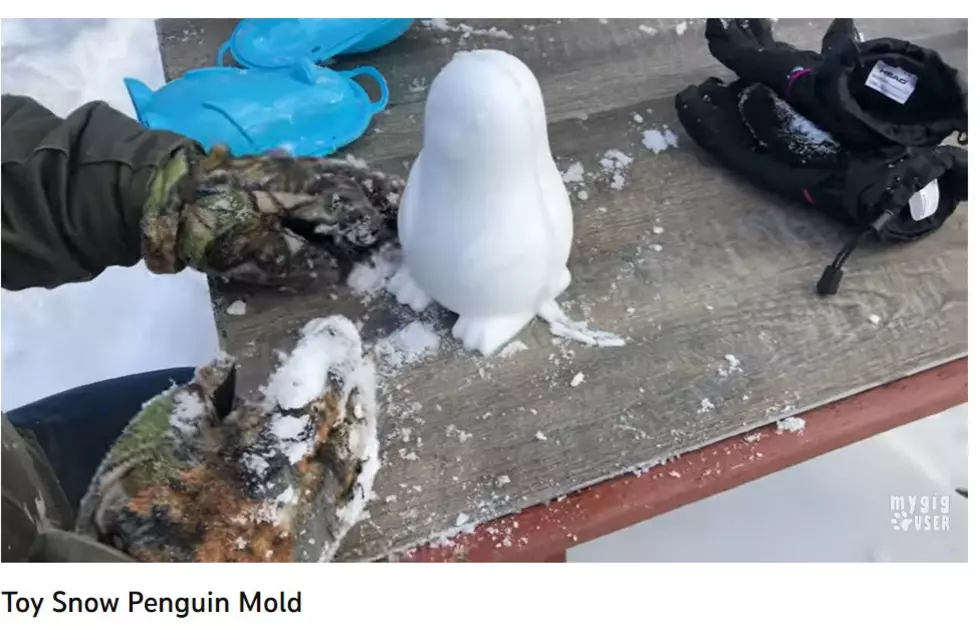 The 5 Easy Snow Molds I want to See All Over in Minnesota Yards for Winter!
Image Credit: mygiguser via YouTube
We have so much snow right now. Even with it being warm enough to actually melt some this winter, we have way more than usual at this time. Naturally, it makes sense to go searching for ideas on what do in the snow.
You have the usual, make a snowman, go sledding, ice skate and have a snowball fight. But what if you tried something a little different and had some fun with the snow that involved molding the snow? I had seen these little contraptions before, but I hadn't really stopped to look at them, until someone shared a post on Facebook demonstrating them again.

A while back my friends and I started collecting rubber duckies from a claw machine when spending time in lakes country during the summer. That this one immediately caught my eye as something each of us needed to carry this on during the winter months. But it also got me curious on what other molds there are out there. Here are my 5 other favorites I'd LOVE to see in yards all over Minnesota this winter. So get to choosing which one is your favorite and I hope to see them soon everywhere!
Feel this is very appropriate for Minnesota. It's like the equivalent of Bigfoot for winter, so imagine having these hidden around your yard in the winter in random places for people to see them. Find it at L.L. Bean
These little adorable cold weather birds are begging to be lining your driveway or sidewalk for the winter. Stick lights by them and let them shine all over!
There isn't a kid or an adult around who wouldn't have fun with this mold. This particular mold (found here) I found is a smaller one, so you could be having a snowball fight with dinosaurs and how much cooler does that sound than having a regular round snowball fight?
Take this (heart) mold and make these cool hearts all over your yard for Valentine's day. OR better yet, make a giant heart will little hearts and really impress your love by adding food coloring to them and making them red, pink, or purple...or maybe all those colors and mix in a few without any food coloring.
Who says these cute little ornaments are for summer time only in your yard or garden. Lets get gnomes out in yards year round now with these cute snow molds!
There are plenty others out there, but these were a few I think would be really cool to see in Minnesota yards all over the state. If you already have snow molds up in your yard, oh please, please, please share those photos by sending them to us in our free mobile app. Don't have it downloaded, what are you waiting for, here you go...
LOOK: Here are 25 ways you could start saving money today
These money-saving tips—from finding discounts to simple changes to your daily habits—can come in handy whether you have a specific savings goal, want to stash away cash for retirement, or just want to pinch pennies. It's never too late to be more financially savvy. Read on to learn more about how you can start saving now. [
From:
25 ways you could be saving money today
]
12 Items You Didn't Know Were Invented In MN (And A Few You Did)
KEEP READING: 3-ingredient recipes you can make right now