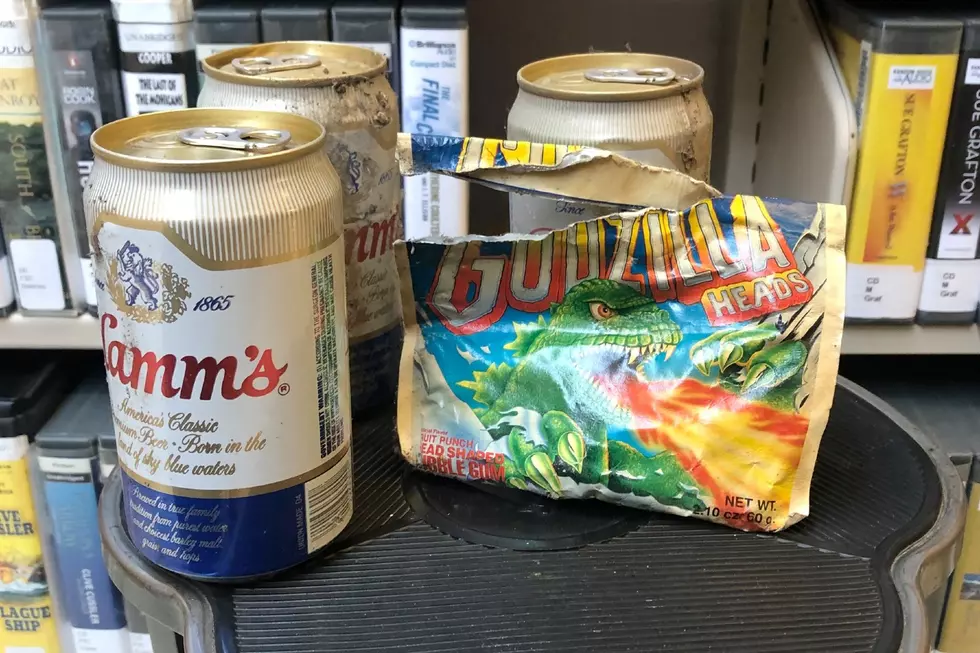 Stash of Historic MN Hamm's Beer Found Hidden in WA Library
City of Walla Walla Government via Facebook
By the looks of things, someone was "imbibing" more than just a good book!
While re-arranging the layout last week, a facilities crew member at the Walla Walla Public Library in Walla Walla, Washington got quite the surprise -- a stash of Hamm's beer and Godzilla Heads bubble gum that had been hidden in some 1970's-era shelving!
"Along with the usual dust and dead bugs," shared the City of Walla Walla on Facebook, "he found five unopened cans of 'the beer refreshing' and some monstrously stale gum still in its vibrant packaging, along with a moldering paper bag."
"Godzilla Heads gum dates to the late 1980s," explained the city on Facebook, "and the rule that requires warnings to be printed on alcohol containers was enacted in November 1988. So we think the goods were there for upward of 30 years. Talk about a long shelf life!"
For its part, Hamm's is a Minnesota brand of beer that dates back to 1865. "Theodore Hamm first arrived in St. Paul, MN from his native Germany in 1856 with a clear, simple dream: to create a quality American brew to be enjoyed by all," reads the Hamm's website. "What Mr. Hamm couldn't have known back then was that Hamm's -- known far and wide as 'The Beer...Refreshing!' -- would eventually become one of the most iconic beers in American history, brewed in the Land of Sky Blue Waters." Hamm's would go on to become one of the largest breweries on the nation -- fifth largest in 1950 -- and, over 100 years later, continues to brew refreshing beer. While the brewing no longer happens in Hamm's original St. Paul location (ownership changed multiple hands over the past few decades) some modern businesses including St. Paul Brewing still occupy spaces within the original St. Paul brewery.
As far as what happened to the five cans of Hamm's and the stale Godzilla Heads gum found in the Walla Walla Public Library... "After chewing on the question for a while, library staff decided to transfer them to another City facility," the city said. "The abandoned relics now reside in the Sudbury Landfill. It's probably not the outcome the trove owner expected; unfortunately, not every story has a happy ending."
Turns out, it's not the outcome many others had hoped for either, with many pointing out that the cans are collectors items and could probably have fetched for some significant offers from interested parties.
"The hamms is a collectors item and could be worth money especially unopened that money could be donated to the library," said one online.
"The beer cans although not ancient may be a bit collectable since they are unopened," suggested another. "Should have found a can collector!"
We may never know who the stash belonged to, but we can at least approve of their choice of beer!
Enter your number to get our free mobile app
Val's in St. Cloud Looks the Same as it Did in 1987