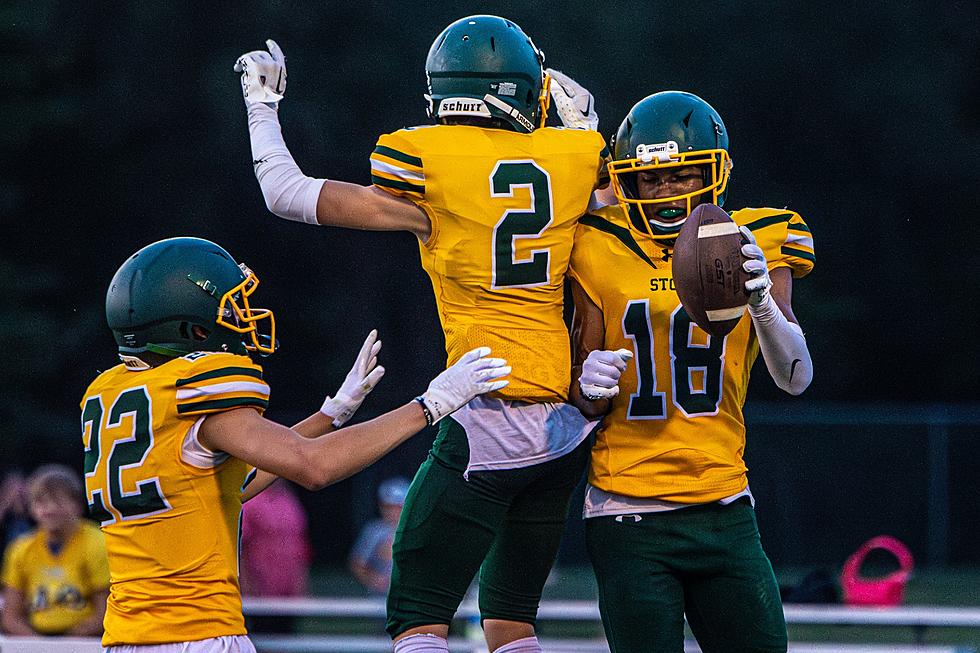 St. Cloud Metro Area Football Preview – Week Eight
photo - Andrew Ritter
The Sauk Rapids-Rice Storm is set to host Moorhead Wednesday night for the final regular season game of the year. Kickoff is set for 7 p.m. on AM 1390 and FM 93.9 Granite City Sports.
The Storm lost at Andover last week to fall to 6-1 and will likely be the second seed in the Section 7AAAAA playoffs when they begin next week. If so, Sauk Rapids-Rice would get a first round bye and would host a playoff game on Saturday, October 28th.
Moorhead has had an up-and-down season while navigating a difficult schedule and enters tonight's game with a 4-3 record. The Spuds lost 24-14 at home to Alexandria last week.
ELSEWHERE:
TECH (1-6) @ NEW PRAGUE (5-2) 7 PM
The Tigers picked up their first win of the season with a 33-7 win over Sartell last week at home. Tech is likely locked in as the fifth seed in Section 8AAAAA.
New Prague beat Waconia 29-28 last week to improve to 5-2 on the year.
PARK CENTER (2-5) @ SARTELL (0-7) 7 PM
The Sabres will host the Pirates for Tackle Cancer night in Sartell. The Sabres are still looking for their first win of the season after falling at Tech last week. The Pirates have lost back-to-back games and four of their last five heading into week eight.
ORONO (7-0) @ ROCORI (5-2)  7 PM
The Spartans bounced back from being shut out at Becker in week six by shutting out Holy Angels 29-0 on the road in week seven. The Spartans defense has posted four shutouts so far this season.
Orono has been pounding opponents this season. In their seven wins, their closest margin of victory was a 47-28 win at Mound-Westonka in week five.
ZIMMERMAN (2-5) @ APOLLO (1-6) 7 PM
The Eagles have lost back-to-back games since their week five win at Spectrum, while the Thunder fell 34-14 at home to Mound-Westonka last week.
KIMBALL (5-2) @ CATHEDRAL (3-4) (@ SJU) 7:30 PM
The Crusaders are riding high heading into the final game of the regular season as winners of three in a row, with all three of the wins shutout victories. Cathedral has outscored its opponents 57-0 over their last three games.
The Cubs saw their four game winning streak snapped with an 18-6 road loss at Eden Valley-Watkins last week.
Come Visit South Haven, Minnesota in Pictures