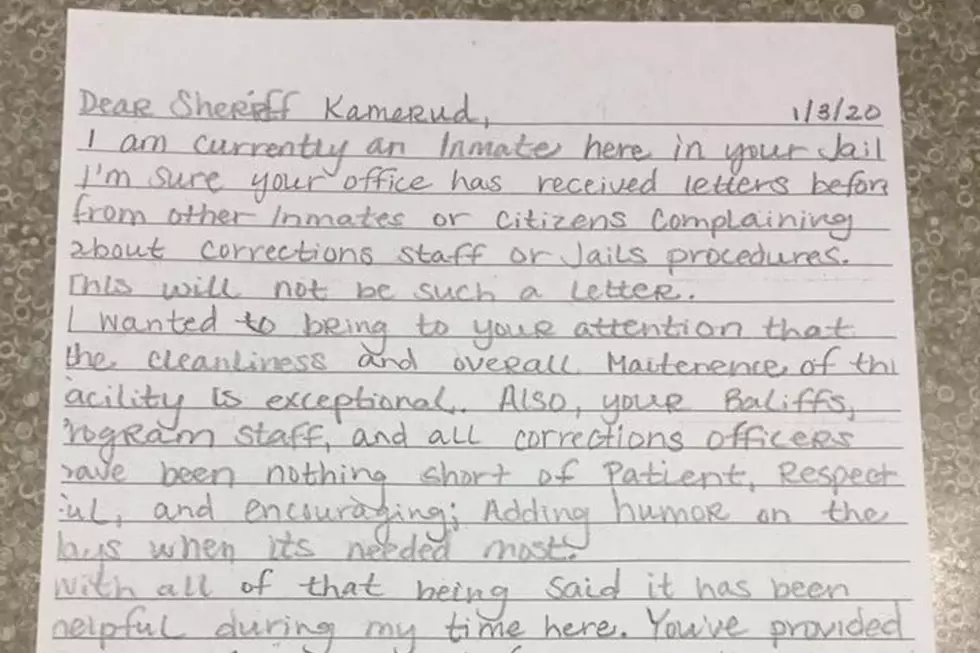 MN Sheriff's Office Gets Pleasant Thank You Note from Inmate
Carver County Sheriff's Office via Facebook
The Carver County Sheriff's Office Monday shared a thank you note that they received from an inmate.
"I am sure your office has received letters before from other inmates or citizens complaining about corrections staff or jails procedures," the letter, dated January 3, 2020 reads. "This will not be such a letter."
The note goes on to praise the "exceptional" "maintenance and overall cleanliness" of the facility. It recognizes the bailiffs, program staff, and all corrections officers for their patience, respect and encouragement. It also goes on to recognize the time and opportunity for personal reflection and growth, thanking the Sheriff's Office for providing a "safe environment" to do so.
"A great show of appreciation to our Detention Staff in our jail," the Carver County Sheriff's Office post's caption reads. "As you can imagine, they don't get a lot of Thank Yous in their line of work."
While the name of the inmate is withheld in the post, the letter is signed "Sincerely."
"Our Mission statement is to treat everyone with respect and dignity and to do so with honor, integrity and pride," the office's post concludes.
Enter your number to get our free mobile app