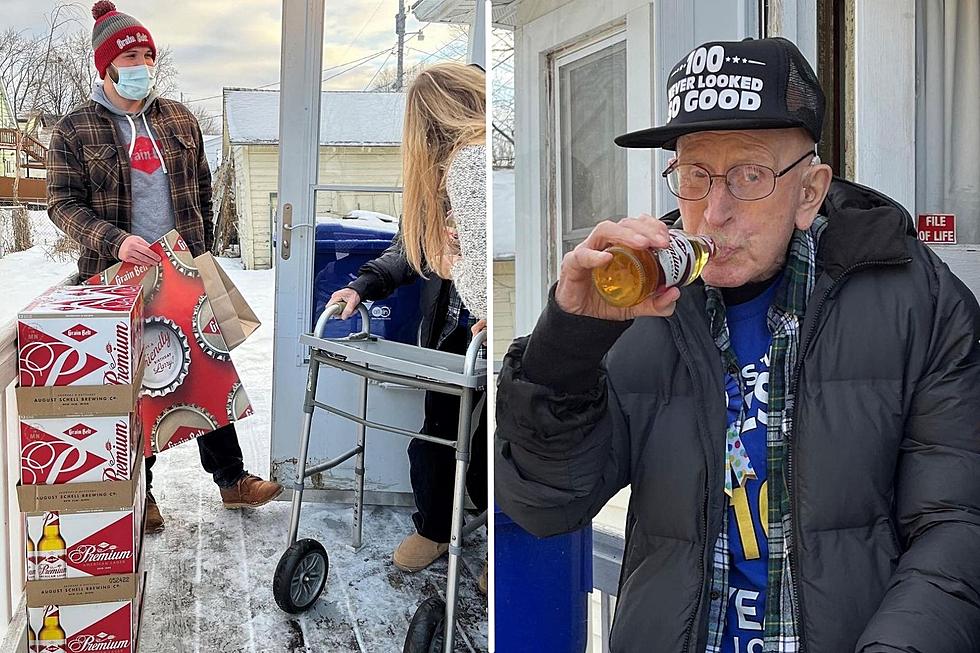 MN Man Surprised with 100 Grain Belt Beers on His 100th Birthday
Grain Belt Beer via Instagram
Larry attributes his longevity to drinking Grain Belt Beer daily and staying curious.
Ask a centenarian how they've lived so long, and they'll likely attribute their good health -- at least in part -- to one thing in particular -- beer. Last October, 106-year old Margaret Dilullo of Pennsylvania captured hearts everywhere after revealing that she drinks a Yuengling lager a day. To show their appreciation, Yuengling Brewery surprised her at home with a truck full of beer.
In 2020, during the height of COVID-19 and stay-at-home orders across the country, another Pennsylvania woman 93-year old Olive Veronesi went viral after a photo of her at her window holding a Coors Light in one hand and a sign reading "I NEED MORE BEER!!" in the other was shared online. The photo caught the attention of parent company Molson Coors who surprised Veronesi with a delivery of 10 cases of her favorite beverage at home. They also extended an offer to restock her supply for free whenever she got low.
In 2019, Doris Olive Netting of Plymouth, England celebrated her 100th birthday with a Guinness-themed party, crediting her long life to drinking a glass of the dry Irish stout a day for the past 70 years.
Lest you think that only folks in Pennsylvania and England live to a ripe old age, meet Legendary Larry. Larry just celebrated his 100th birthday. His secret to a long life? Minnesota's own Grain Belt beer! After learning that Larry drinks a Grain Belt beer a day, the historic Minnesota brewery surprised him on his 100th birthday with 100 beers.
"We recently presented Legendary Larry with some fresh duds and 100 beers for 100 years," Grain Belt shared on social media with photos of their visit. "[He] drinks a bottle of Premium every day to keep him young...Cheers and hope you had a great birthday, Larry!"
We reached out to Larry's daughter Janice Bisch who shared a bit more about her dad and his love of Grain Belt beer. Born on a farm near Cleveland Minnesota in 1922, Larry grew up with six other siblings. He served during WWII and was stationed in various locations around the US and the Philippines. Larry started drinking Grain Belt in the 1970's when the beer he used to drink (she didn't tell us what that was) became unavailable. "Nowaday," Janice told us, "he sets a bottle on the counter and has little sips throughout the day."
Leading up to her dad's 100th birthday, Janice wrote to Grain Belt (which was bought in 2002 by fellow Minnesota company August Schell Brewing Company of New Ulm) to tell the Minnesota brewery about her dad's love for their beer, including a photo of him drinking a Premium and a video of him quoting one of their old slogans. They loved it so much they surprised Larry on his birthday with 100 beers, a Grain Belt sweatshirt and a giant Grain Belt birthday card. "[It] was the highlight of his day," Janice said.
Larry says one of the secrets to getting to be so old is drinking Grain Belt, though he also keeps active by walking and doing exercises daily. He says you have to stay curious, too -- "it keeps you going."
Happy 100th, Legendary Larry! Enjoy your Grain Belt beers and thanks for inspiring us Minnesotans to live a long, happy, beer-fueled life!
LOOK: Best Beers From Every State
To find the best beer in each state and Washington D.C., Stacker
analyzed January 2020 data from BeerAdvocate
, a website that gathers user scores for beer in real-time. BeerAdvocate makes its determinations by compiling consumer ratings for all 50 states and Washington D.C. and applying a weighted rank to each. The weighted rank pulls the beer toward the list's average based on the number of ratings it has and aims to allow lesser-known beers to increase in rank. Only beers with at least 10 rankings to be considered; we took it a step further to only include beers with at least 100 user rankings in our gallery. Keep reading to find out what the best beer is in each of the 50 states and Washington D.C.
Photos From Oktoberfest 2021 at Schells Brewery in New Ulm, Minnesota