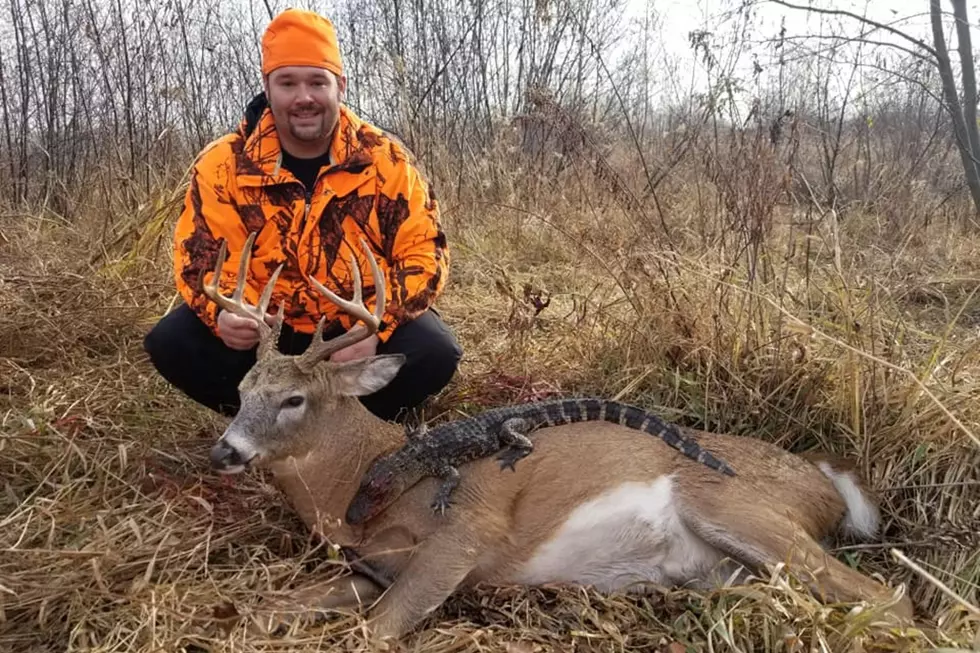 MN Hunter Bags a 3-Foot Long…Alligator? [Photos]
Cory Klocek via Facebook
There may be less than two months left of 2020, but if you thought the year couldn't get any weirder, think again.
This past weekend, a hunter in East Bethel, MN was tracking a deer when he spotted an alligator. Yes -- an alligator.
"As I'm walking around a pond...I look down to see a 3 foot alligator 10 feet in front of me," said Kory Klocek on Facebook. After calling the Minnesota DNR, he was given permission by a game warden to shoot it. He says he has no idea how it got there or wound up in Minnesota, though he guesses someone had it as a pet and released it when it got too big." According to Fox9, Klocek at first thought the gator was a prank. "That's not something you see and then I thought maybe it's rubber it's fake and then he moved and I said nope that's a real live alligator in Minnesota in November."
While some in the post's comments have expressed their disgust at shooting the alligator, others have reasoned that it wouldn't have survived the cold Minnesota winter.
"Say what you will against him shooting the alligator, but it was likely released over the spring/summer and would never have survived the winter," said one. "If you want to be angry at someone, be angry at the person/s who released the poor thing to starve and freeze to death."
"The thing would've suffered much more and been a slow death over the winter," agreed another.
"Good buck and what a story to tell the grands in the future," praised a third. "Want to see the mount when you get it back."
Klocek plans to mount the alligator along with the 10-point buck he also shot.
Enter your number to get our free mobile app
The 10 Commandments of Deer Hunting in Minnesota