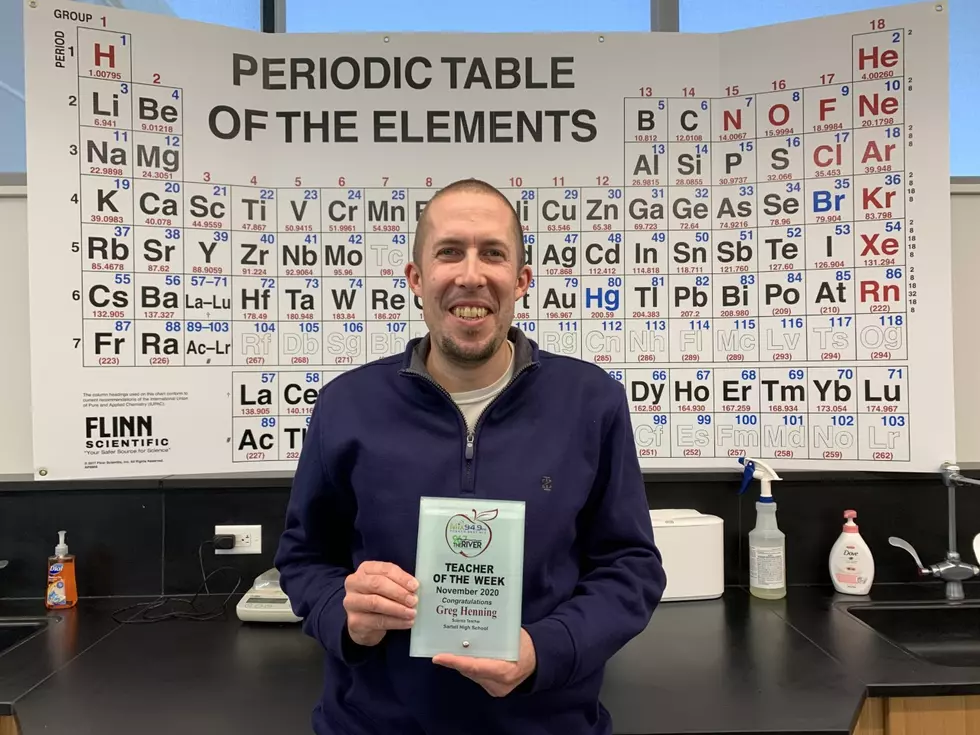 Meet Our Teacher of the Week: Greg Henning at Sartell High School
Photo by David Black
Congratulations to our 'Teacher of the Week' -- Greg Henning. Greg is a science teacher at Sartell High School.
Over the last few years, we have received many nomination letters for Teacher of the Week. They have all been heartfelt, sincere, and tell us why that teacher deserves to be recognized. The nomination we received for this week's Teacher of the Week might be the best one yet (and the longest). It was written by a student of Greg's and it really put the spotlight on why we do this.
The teachers who make the longest lasting impression on your life are those of whom take the time to truly get to know you as an individual, and Mr. Henning does just that. Not only does he make it possible for you to learn more about science than you thought you physically could but he also makes the experience worthwhile and beyond entertaining.

 

There has not been a single time of passing him in the hallway that Henning has not taken time to acknowledge me. Whether it be a simple smile and wave or a five minute conversation almost resulting in you being late for your next class, he always makes sure that you know that you are visible and that you mean something to him. I will never forget the countless times that he allowed me to sit up in his chair with wheels during work time nor the times when he continually made fun of how petty my handshake was.

 

As a student, going into high school is a terrifying experience. Not only is it a new building and society's social standards are just starting to have a large impact on your life but it is also the gateway to the last four years of your childhood. Mr. Henning helped to make this experience a little less intimidating for me. He taught me that you can make it through even the hardest of days if you have a smile on your face and keep a Metallica song on repeat in your head. From the first day of science to the last day of the semester, there was never a dull moment.

 

At the beginning of the year I was only supposed to have Henning for a quarter and then switch to another teacher in the science department for the second half of the semester. Henning did not allow this to happen. He was able to get my schedule changed so that I could have him for my entire 9th grade science career.

To this day, I do not think he realizes how much that simple action meant to me. He was able to see potential in me that I was unable to see in myself. He also did not allow our relationship to end after I completed freshman year. As a sophomore now, there is still not a single teacher whom I look up to as much as I do Henning.

Although he may not be the biggest person, he has the biggest heart. Henning's passion for being "Sabre Strong" goes way outside of the classroom. In fact, it reaches miles upon miles. Close to the distance that he makes his cross country team run during Saturday practices. Yes, that's right, as of this year Gregory Henning is the head coach of the Sartell cross country team.

While I, myself, am not a runner, I have many friends who will never fail to share how great of a coach he is. Always pushing them to be the best they can be at practice and always the loudest fan at the meets.

Beside from the fact that Mr. Henning's ways of showing you he cares are not "normal," and he will never pass up on a good tease, you always know that he will have your back.

 

- Ella Hanson
Enter your number to get our free mobile app
Nobody knows what this school year will continue to be like. But one thing we know is that we want to continue to recognize teachers in Central Minnesota, even if it's in empty classrooms or video calls. We are ready to adjust to whatever situation presents itself.
Thank you to all of our teachers. If you know a teacher that should be recognized, tell us all about them here.
7 Unique Gift Ideas for the Lefse Lover on your List