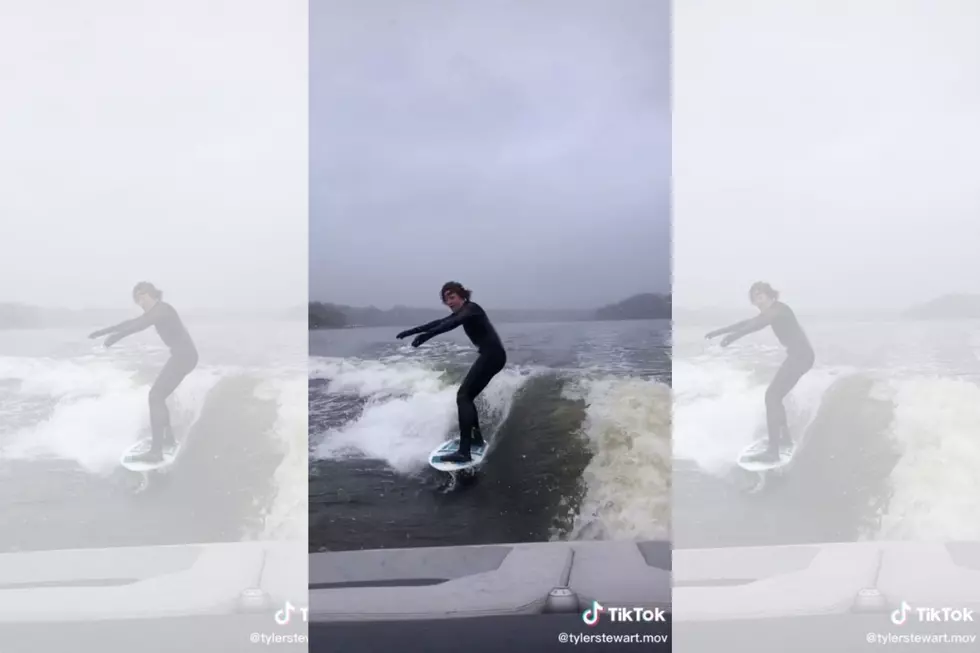 Crazy Things Minnesotans Do in a Snowstorm #137: Wakesurfing [WATCH]
Tyler Stewart via TikTok
We Minnesotans are a funny bunch.
For as much as we dread winter and snow -- daily checking on the forecast and praying away any impending flurries -- we sure have a knack for making the most of our inclement weather. Take, for instance, this video by TikTok user Tyler Stewart that's gained some attention with 125k views.
Captioned simply "Only in MN" with some Minnesota and weather-related hashtags, the video shows Tyler and his friend wakesurfing in wetsuits behind a boat while it's snowing out. Based on the hashtags in the caption, the video was -- presumably -- shot on Lake Minnetonka.
Stewart himself is a professional wakesurfer and -- according to his TikTok bio -- a 2020 World Champion. According to his website, Stewart started wakesurfing at the age of 13 and in 2018 started taking it more seriously after winning 2nd place at Nationals in Texas. In 2019 he moved up to the Outlaw division of the Competitive Wake Surfing Association and won first place by a margin of 30 points. This year marks his first year competing at the professional level. When Stewart's not surfing on Lake Minnetonka, Lake Minnewashta, Gull Lake or Cross Lake he's playing hockey with the Chanhassen Storm hockey team, snowboarding at Hyland Hills or at Chanhassen High school.
Adaptable or not, there's no doubt Minnesotans were not ready for or happy about last Friday's first snowfall of the season. This hilarious reaction video was felt by many around Minnesota.
Besides wakesurfing, what other slightly strange or unusual activities are Minnesotans known for doing when it snows?
Enter your number to get our free mobile app
How To Tell If You Are 'Up North' in Minnesota