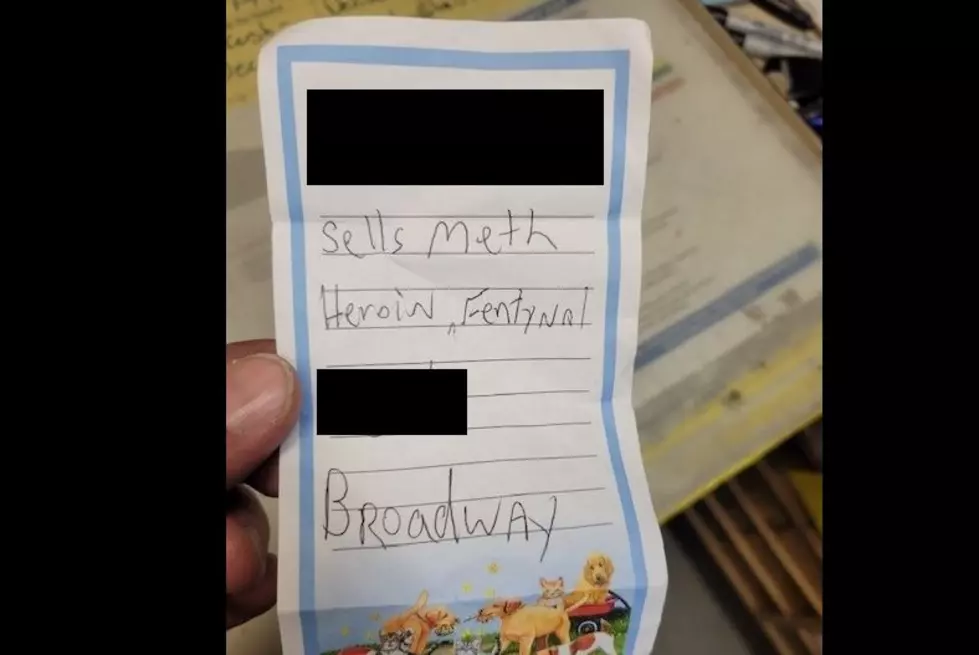 Cottage Grove Police Want To Know Who's Leaving These Notes Everywhere
Facebook.com/CottageGrovePublicSafety
WHAT IS HAPPENING IN COTTAGE GROVE?
Someone in Cottage Grove, Minnesota has either had it with people selling drugs in their neighborhood, or they have a vengeance with an individual.  The Cottage Grove Police Department is asking for help in finding the individual that is leaving these notes all over town.  Although it's blacked out on the pictures, the notes list an individual in the area as being a seller of Heroin, Fentanyl, and Meth.
Many people in the community are leaving comments about the messages being left around the area, trying to figure out who might be doing this.
Some of the comments point to possibly an elderly person who may be in the early stages of dementia. The person making this comment was in the nursing field and said that sometimes elderly people get paranoid, and may be paranoid about the mail carrier.
The Detective is asking if anyone has seen this stationary in someone's home.
CAN YOU HELP FIND THEM?
The Cottage Grove Police Department is asking for the public's help in attempting to locate the person that is putting these messages in random places over the past year.
The notes have been left in areas near Cub Foods and Walmart. They say it is a part of an ongoing harassment-related investigation, and they recognize that they may never discover who is doing it but are wanting to see an end to the harassment.
TIPS?
If anyone has a tip on who might be doing this, they are asking you to contact Detective Jared Landkamer at 651.458.6046.
Minnesota's Ten Tallest Buildings
Take a Walk on a Trail from St. Cloud to Sauk Rapids
How To Tell If You Are 'Up North' in Minnesota
Minnesota's Most Unique Places To Stay The Night
[gallery gallerytitle="The 5 Animals Most Likely to Cause Your Death in MN" galleryid="65:525724"