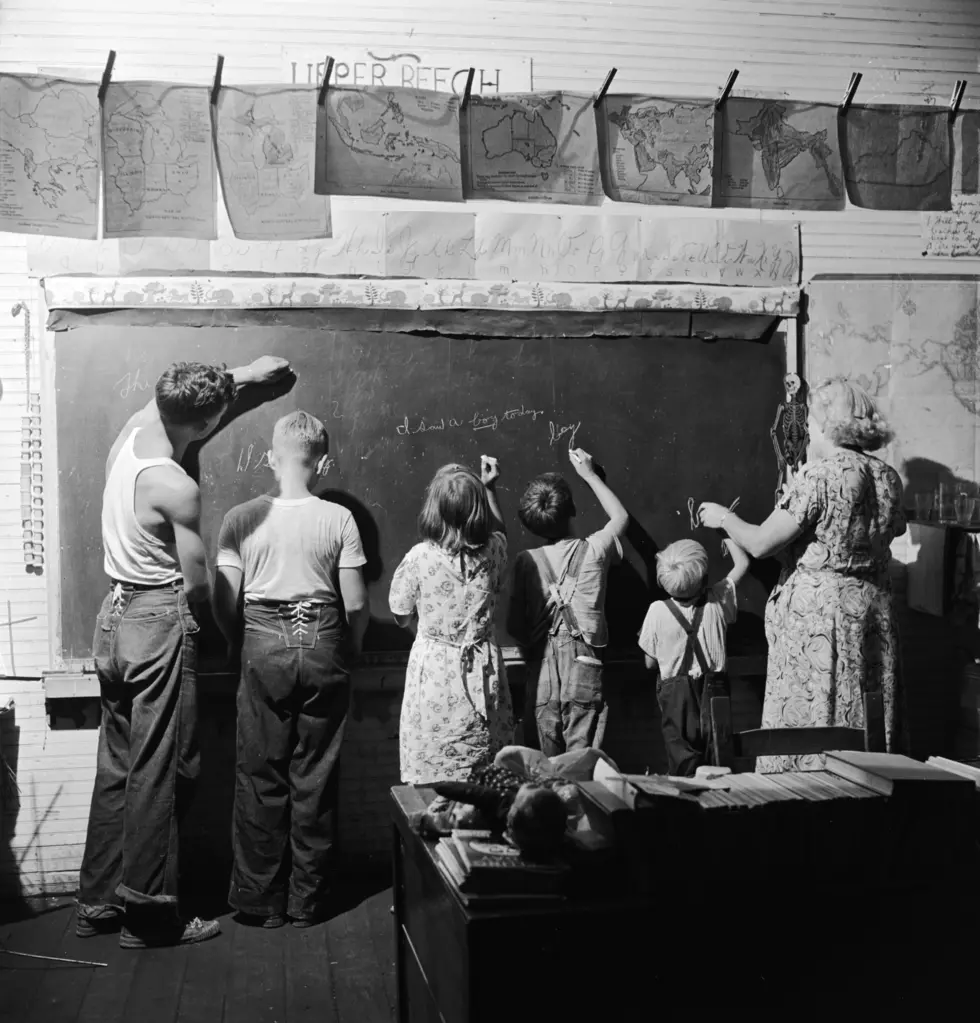 Check Out This Wild List of Rules Teachers Had to Follow in 1872
Getty Images
Teachers these days have so much to juggle. We keep hearing of their stress levels being through the roof, and reports of many leaving the profession altogether.
As I scrolled through my Facebook page I came across a post in an alumni group I am a part of. The post shared a list of rules for teachers from Australia in the late 1800s, and in addition, people were sharing memories of beloved teachers at their country schools.
Here are the rules teachers had to follow in 1892:
1. Teachers each day will fill lamps, trim the wicks, and clean chimneys.
2. Each morning teacher will bring a bucket of water and a scuttle of coal for the day's session.
3. Make your pens carefully. You may whittle nibs to the individual taste of the pupils.
4. Men teachers may take one evening each week for courting purposes, or two evenings a week if they attend church regularly.
5. After ten hours in school, the teachers may spend the remaining time reading the Bible or any other good books.
6. Women teachers who marry or engage in unseemly conduct will be dismissed.
7. Every teacher should lay aside from each pay a goodly sum of his earnings for his benefit during his declining years so that he will not become a burden on society.
8. Any teacher who smokes uses liquor in any form, frequents pool or public halls, or gets shaved in a barber shop will give good reason to suspect his worth, intention, integrity, and honesty.
9. The teacher who performs his labor faithfully and without fault for live years will be given an increase of twenty-five pence per week in his pay, providing the Board of Education approves.
It's crazy that they allowed men nights off for dating but women weren't even allowed to be married. Also, rule #7 which tells teachers how to spend their money to not be a burden seems a little micro-managing to me.
For all my teachers reading this, can you imagine having to bring your own water bucket and coal to heat your classroom every day?
Times have definitely changed, and though I know the education industry has its issues, I'd say it has to be much better off now.
Pictures from the 2023 World Snow Sculpting Championships In Stillwater Minnesota
The World Snow Sculpting Championships were held recently in Stillwater where teams from as far away as Mexico and Columbia competed against each other for a share of the top prize, medals, and the title of World's Best when it comes to snow sculpting.
Here are the Restaurants that Opened in the St. Cloud Area in 2022
What Does AI Think St. Cloud Looks Like at Christmas?