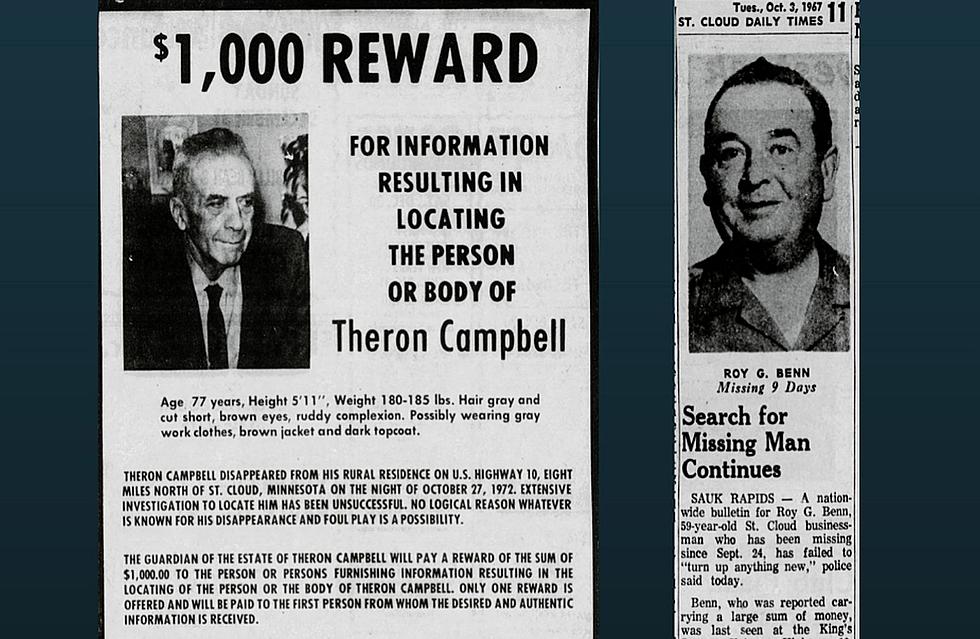 Benton Co. History: Tracking Down True 'History Mysteries'
Benton County Historical Society
SAUK RAPIDS -- Your local historical society is a great place to preserve old artifacts and facts from our past, but sometimes they are called on to do a little detective work too.
Mary Ostby is the Executive Director of the Benton County Historical Society. She says they get some unusual requests sometimes that they call "history mysteries".
A good example is a request from the Benton County Sheriff's Office as they work to solve two open cases of men who disappeared in the county. Roy Benn of Sauk Rapids and Theron Campbell both went missing in the late 1960s and early 1970s and have never been found. Ostby says the sheriff's office called on the historical society to help track down some living relatives.
They contacted us to do a family genealogy and back track as much as possible to see if we could find a living relative that they could talk to about getting a DNA sample to put on file.
Ostby says they were successful in finding a living relative for Benn, however, they've been unable to find any relatives for Campbell.
By having DNA from a relative on file, if the sheriff's office ever does find a body they can match its DNA to the one they have on file to determine the identity.
By following some clues and knowing where to look, the staff at the Benton County Historical Society was able to help solve a 123-year-old mystery.
Ostby says this History Mystery happened back in 2012 when they got a call from a 98-year-old woman who was looking for records on an ancestor. Johanna Anderson had come from Sweden in 1888 with a small baby and was meeting her husband in Sauk Rapids. Johanna died and the baby was put up for adoption.
For the next 123 years, the family of that baby had worked to track down the gravesite of Johanna. Once Ostby realized that she was actually buried under the name Sophia Anderson (which was her middle name), the pieces of the puzzle started coming together.
Ultimately Josephine and her sister came into town to get the documents.  They also contacted the family back in Sweden who had also been looking for this grave for years and years and they sent family members over from Sweden to look at the unmarked grave.
Ostby was also able to find church records and an obituary in the 1888 newspaper for Johanna Sophia Anderson and help find the answers that the family had been looking for for 123 years.
Ostby says about every five years or so they'll get a call for information about a giant skeleton that was apparently found in Sauk Rapids back in 1868. She says they do have an article from the Sauk Rapids Sentinel about the discovery when they were working on the dam in the river.
It was shipped out in the middle of the night on the railroad.  When the local people heard about it and tried to see it it was already gone.  Apparently, it was sold to Barnum and Bailey Circus.  That was the rumor at the time.
Ostby says she hasn't been able to verify whatever happened to this giant skeleton. But, they have helped get information for an article in Ancient America magazine and in a Steve Quayle video segment on giants, along with other websites that document unusual history.
Once a month Ostby is on the News @ Noon Show on WJON to talk about the forgotten history of Benton County.
$2 MILLION PAGODA HOME IN RED WING