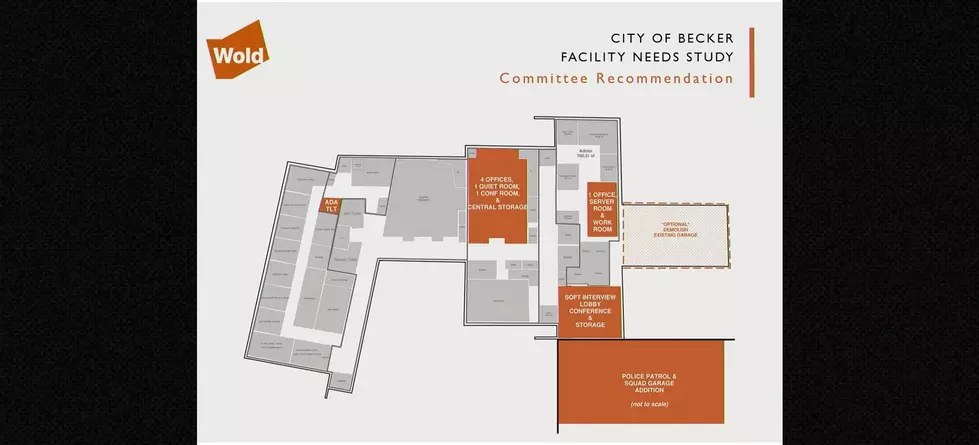 Becker Council Considers City Hall Remodel
Photo: City of Becker
BECKER (WJON News) - The Becker City Hall is becoming overcrowded.
A space study presented to the Becker City Council Tuesday night projects the size of the Becker Police Department to grow from 14 employees to 22 by the year 2040, and city hall to add 9 employees.
To prepare for future growth, the city began a needs assessment with Wold Architects of St. Paul.
The committee originally proposed a number of projects to increase the city hall and the police station to a combined 33,000 square feet, however, the costs of such a project became prohibitive. As a result, the committee created a 'middle point' project that combines new construction and remodeling of the existing building.
During a presentation last night, that proposed addition to the police station and minor renovation to city hall was unveiled.
The addition would add about 8,000 square feet to the police department and create 4 offices and a conference room in the existing city hall. The building's 'footprint' will grow from the current 16,000 square feet to about 26,000 square feet, and allow for space for 38 employees.
Currently, there are 16 employees in city hall, and 12 at the Police Department. Growth plans add 4 city employees to city hall and 8 to the Becker Police Department by 2040.
In addition, renovations would bring areas in city hall into compliance with ADA requirements.
The proposed project comes with a $6.5 million price tag.
The council approved the committee's work and will wait for more information before deciding to move forward with the project.
---
READ RELATED ARTICLES
Presidential/Vice Presidential Visits to St. Cloud