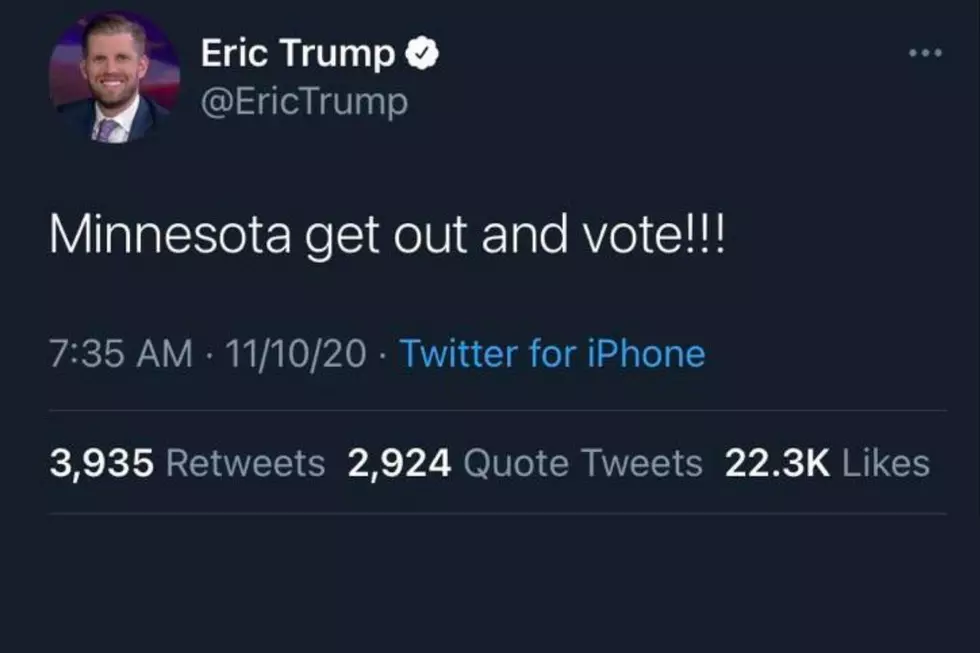 Whoops! Trump's Son Encourages MN to Vote One Week After Election
u/Sp_Gamer_Live via Reddit
Does this mean we're all going to have to re-vote afterall...?
In a since-deleted tweet, Eric Trump -- son of current President Trump -- encouraged Minnesotans to vote...a full week after the general election.
"Minnesota get out and vote!!!" read the tweet dated 7:35am November 10, 2020.
Needless to say, the internet has not been kind.
"He clicked 'send tweet' last week but the wifi signal in his room under the stairs isn't very good," jibed another.
"...he really did hit every branch falling out of the idiot tree, didn't he?" added a third.
The most reasonable explanation -- as some have suggested -- is that the tweet was prepared in advance and simply scheduled for the wrong date. Either way, it's a bad look.
"LOL. Clearly this was a scheduled tweet for Tuesday morning it was just accidentally scheduled for 11/10 instead of 11/03," laughed on Reddit user. "Amateur."
"This had to have been a scheduled tweet right?" asked another. "Either way it's embarrassing."
Following last Tuesday's general election, Democratic candidate Joe Biden won Minnesota with 52% of the votes over President Trump's 45%. After several days of careful vote counting and close calls, Biden was named the winner of the 2020 election and future President of the United States with a total of 50% of the votes compared to Trump's 47%. Joe Biden will be sworn into office January 20, 2021.
Enter your number to get our free mobile app
13 Minnesota Slang Terms Everyone Should Know