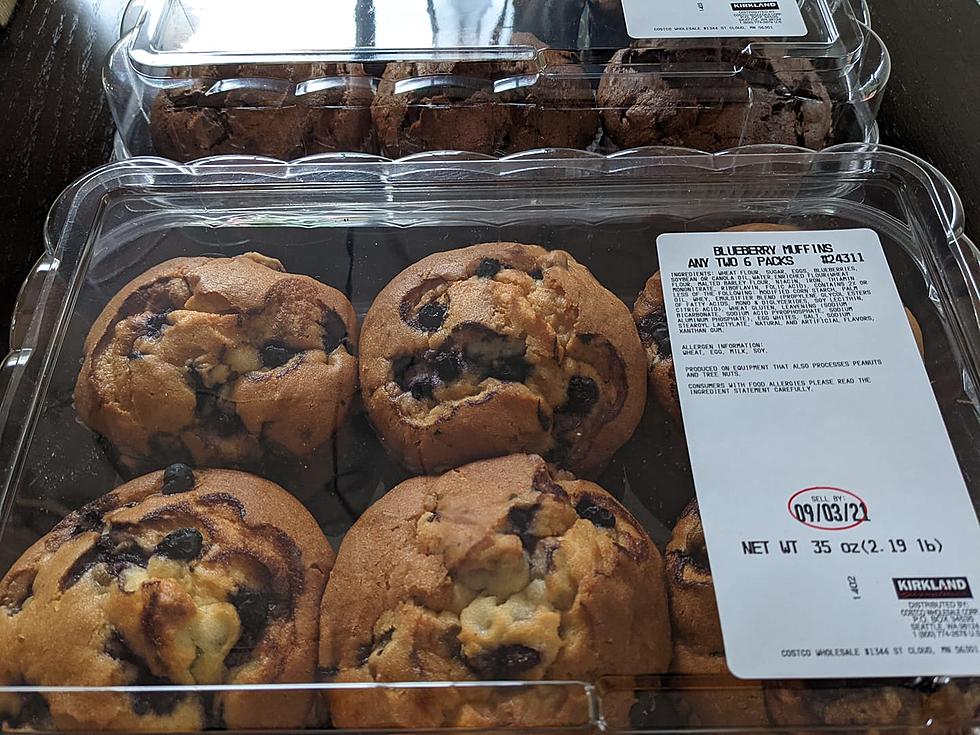 Which Muffins are the Best (and Worst) at Costco in St. Cloud
PHOTO: Laura Bradshaw
Recently I bought some muffins at Costco.  I did so because I thought it was healthier than doing a coffee cake or something like that for breakfast.  I might be totally wrong on that thought.  That is, depending on which muffins you eat.  They are ALL really good.
These muffins are monstrous.  Remember the "mammoth" muffins at Perkins.  Those things are nothing compared to these guys.  They always have the "pick any 2 six packs".  So I like to mix it up.  Luckily one of the packs I got actually was on the healthier end, the other one... so so as far as that goes.  But at least I didn't get the one that has as much sugar as five regular glazed donuts at Krispy Kreme!  Although I have in the past.  Sometimes ignorance is bliss.
I found this list of the muffins with the most calories, fat, sugar, and protein.  The worst one, the one with the most sugar, like equal to the 5 Krispy Kreme donuts was the Coffee Cake muffin- the one with the yummy cinnamon struedel on them.  Yeah, WOWZA!
1 MUFFIN: 660 calories, 30 g fat, 18 g saturated fat, 700 mg sodium, 92 g carbs, 2 g fiber, 52 g sugar, 8 g protein
Ok, I didn't get those. But I did get the Double Chocolate ones.  How do they rank?
1 MUFFIN: 660 calories, 36 g fat, 10 g saturated fat, 520 mg sodium, 76 g carbs, 2 g fiber, 42 g sugar, 10 g protein
Well, not as bad as the first ones, but still....  Then I also got the Blueberry muffins. (Because you know, the pick 2) I figured blueberry, you know, the "super food".  Yeah, not so much.  But at least they are lower in calories, but they have absolutely no protein.  But they also don't have as much sugar either.
1 MUFFIN: 580 calories, 30 g fat, 7.5 g saturated fat, 500 mg sodium, 68 g carbs, 2 g fiber, 34 g sugar, 0 g protien
If you would like to see what the rest of those delicious muffins contain... wait maybe you don't want to. But in case you are curious... this is where you can find that information.  Moderation is key!  Remember that!
50 Most Popular Chain Restaurants in America
YouGov investigated the most popular dining brands in the country, and Stacker compiled the list to give readers context on the findings. Read on to look through America's vast and divergent variety of restaurants—maybe you'll even find a favorite or two.
LOOK: 30 fascinating facts about sleep in the animal kingdom
RANKED: Here are the most popular national parks
To determine the most popular national parks in the United States, 
Stacker
 compiled data from the 
National Park Service
 on the number of recreational visits each site had in 2020. Keep reading to discover the 50 most popular national parks in the United States, in reverse order from #50 to #1. And be sure to check with individuals parks before you visit to find out about ongoing, pandemic-related safety precautions at 
www.nps.gov/coronavirus
.