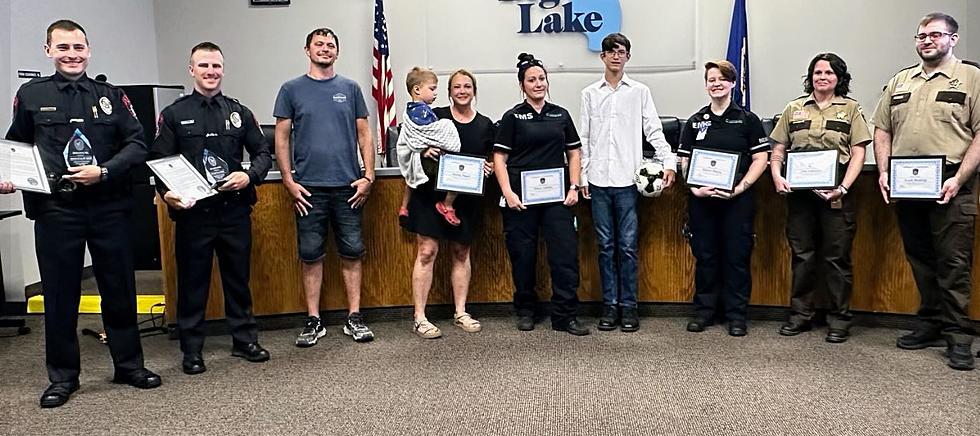 These 'Remarkable Individuals' Were Just Celebrated At A Local City Council Meeting
Image Credit: Big Lake Police Department via Facebook
At the most recent Big Lake City Council meeting a crowd began to form, but it was a happy crowd as these individuals all worked together to save a 13-year-old boy's life, after he had collapsed on a soccer field.
According to a post by the Big Lake Police Department:
During last night's Big Lake City Council meeting we had the honor of recognizing a group of remarkable individuals who as a team, helped save the life of a 13-year-old boy.
On May 8, 2023, Big Lake Police Officer's William Saliterman and Tyler Hecht were dispatched to a critical medical emergency at Liberty Elementary School (Soccer Fields). It was reported to Sherburne County Dispatch that a 13-year-old boy had collapsed during the game, became unconscious, and was not breathing.
Without hesitation, several bystanders rushed in to help with the situation. One of which had contacted dispatch. Sherburne County Dispatchers Hinchcliff and Sutherland relayed critical information to our first responders. They indicated that a bystander had started CPR. Officers Saliterman and Hecht arrived, assessed this situation, and determined to retrieve an AED. AED Pads were applied, and a shock was given.
Bystander Lindsey Paggen and others helped officers and EMS personnel who arrived OnScene shortly thereafter.
CentraCare Ambulance arrived. Paramedic Autumn Hanson and EMT Andrea Engholm provided additional life saving measures with officers. It was determined that transport was imminent. Officers continued CPR and assisted EMS with life saving measures during transport to Monticello Hospital. The boy was then airlifted to Children's Hospital shortly thereafter.
Remarkably Kaidin Survived!!
On May 9, 2023, just one day later, we learned that Kaidin was awake, responsive, and recovering from his medical emergency. His father Glenn, indicated that he was moving his extremities and slowly recovering. Kaidin returned home on May 16. Kaidin
ultimately finished his last four days of the school year and has sustained minimal if any complications.
As a team, which included dispatchers, officers, EMS Personnel, and bystanders at the fields, they were able to jump into action, work together, gather information, and dedicate themselves to saving the life of a young boy. In my humble opinion, this group did everything that they could, and did it without hesitation which led to the saving of Kaidin's life.
We had the honor of Kaidin and Glenn's presence at the Council meeting. For many, this was the first time they had seen him since that day. This remarkable group who assisted Kaidin presented him with a soccer ball signed by each one of them as a gift for him to keep.
Officer Saliterman and Hecht were presented with the Big Lake Police Department Life Saving Award.
EMS Personnel Autumn Hanson and Andrea Engholm were presented with the Citizen Commendation Award.
Sherburne County Dispatchers Joe Hinchcliff and Tami Sutherland were presented with the Citizen Commendation Award.
Lindsey Paggen was presented with the Citizen Commendation Award.
What a great celebration to have knowing that Kaidin was recovering, all thanks to the actions of all those people!
LOOK: Counties with the most bridges in dire need of repair in Minnesota
Come Visit Watkins, MN With Us in Pictures
Come Visit Farming, MN With Us in Pictures