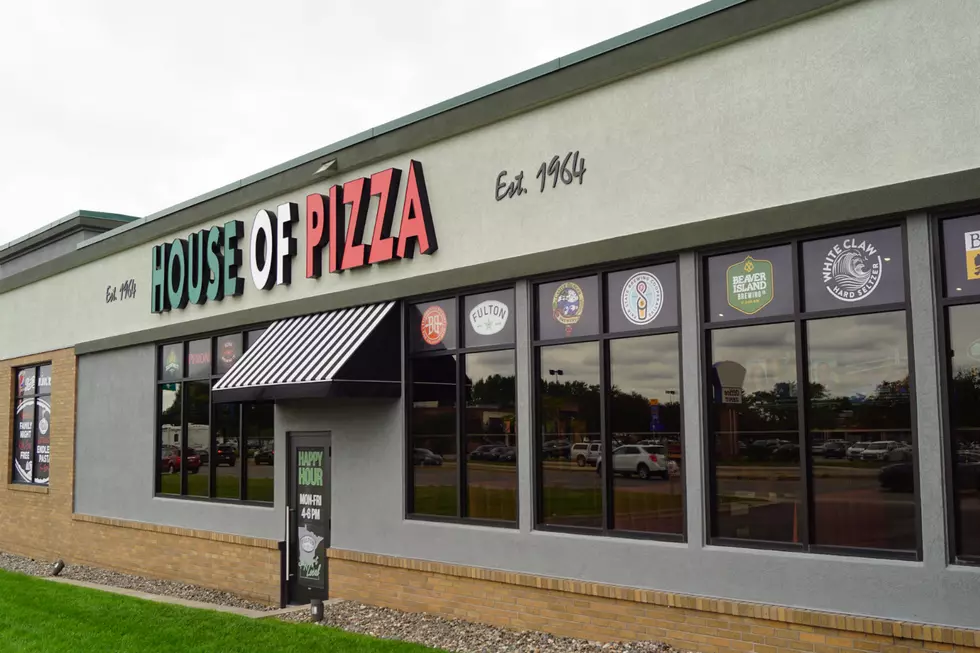 Support Local Businesses: House Of Pizza & Pacific Wok Teriyaki Grill [LISTEN]
(Photo: Lee Voss)
It's more important now more than ever to support local businesses like bars and restaurants during the shut down.
Every weekday morning at 8 a.m. we'll be visiting with a local restaurant operator to find out how they are doing during the pandemic. We'll check-in and find out what specials they're running, how you can order for delivery, take-out our curbside pickup.
Enter your number to get our free mobile app
Today, were joined on the show by Brandon Testa, owner of House of Pizza and Pacific Wok Teriyaki Grill.
Testa said he's seen a huge spike in delivery during the shutdown and his restaurants are doing everything they can to make ordering a convenient and easy process for their customers.
Pacific Wok has recently added delivery service amid the pandemic. Testa mentioned, "A lot of people are choosing to stay home and take advantage of takeout and delivery specials."
Testa knows a lot of families are home together and children are distance learning. To help out, they're offering up Stay At Home Family Dinner Deals. It's a full pan of their white or brown rice, a full pan of vegetables and your choice of a protein which includes steak or one of their chicken varieties.
The dinner deal feeds up to 10 people, Testa added, "so what a lot of people are doing are ordering that at the beginning of the week and having leftovers for their kiddos during the week for lunch and what not."
It also comes with a free 8 pack of Bubbl'r water. They need about 45 minutes to an hour of a heads up to prepare the dinner deal. You can order online, through their app or call it in.
On the House of Pizza side of his restaurant business, Testa said that even though they've had to make some slight adjustments, two out of the three pizza restaurants are offering up their full menu for takeout and delivery.
At the new House of Pizza location in west St. Cloud, that opened during the pandemic, they've temporarily scaled back to a limited pizza and appetizer menu. But, the other two locations in Sartell and downtown St. Cloud are still offering up everything you're used to.
House of Pizza is running daily specials you can take advantage of;
Everyday you can get an extra large pizza with parmesan bread sticks and a 2 liter of soda for $24. 
Everyday they're offering a medium, 2-topping pizza and a 2 liter of soda for $14. 
Everyday they're offering an extra large 2-topping pizza with a pound of wings with a 2-liter of soda. 
On Mondays from 2 p.m. to close you can get an extra large 1-topping pizza for $12. You can add Italian pizza strips and a 2 liter of soda for an extra $5. 
Tuesdays from 2 p.m. to close they've got their 3 for free deal. When you buy any extra large 2-topping pizza, you'll get a free order of pizza strips, house salad and a 2 liter. 
Wednesdays from 2 p.m. to close you can get a large pizza for $10. You can also add their italian pizza strips and a 2 liter for $5 more. 
Thursday from 2 p.m. to close you can try their hot hoagie and a 2 liter of soda for $8. 
The Take & Bake Special is available daily. For $10 you can get a medium half baked 1-topping pizza with your choice of a 2 liter of soda. They're also good to freeze. 
In addition to supporting House of Pizza and Pacific Wok through take-out and delivery service, you can also buy gift cards to use now or later.
"We're challenging big or small businesses who want to do something special for their employees this year [to buy gift cards] … they never expire," said Testa.
Your dollar will go further with their gift card deals. When you buy a $100 gift card you'll get a $20 gift card in return.
"We're not going anywhere. We're going to be in business. We're gonna get through this and come out on the other side of 2021," assured Testa.
House of Pizza is open daily from  11 a.m. to 11 p.m. Pacific Wok is open Monday through Saturday from 10:30 a.m. to 9 p.m.
Check out our radio interview with owner Brandon Testa below.
6 Easy Ways to Support Small Businesses in Central Minnesota