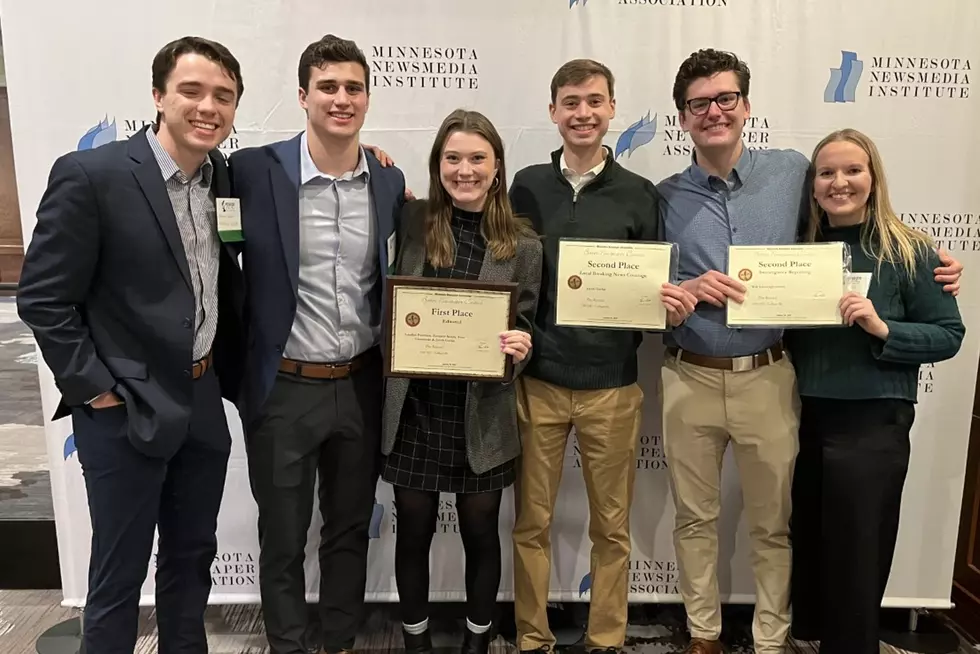 SJU/CSB Wins at Minnesota Newspaper Association
Pictured: (l to r) Emmett Adam, Landon Peterson, Tess Glenzinski, Jacob Gathje, Will Schwinghammer, and Kate Fenske. Photo by Kate Fenske
COLLEGEVILLE (WJON News) - The Record, the student-run newspaper at St. John's University and the College of St. Benedict brought home a few awards from the Minnesota Newspaper Association.
Jacob Gathje is the current Editor-in-Chief. He says the newspaper submitted more than a dozen stories for competitive review. The stories were entered into several different categories, with the winners announced at the convention in January.
The Record brought home three awards from the Minnesota Newspaper Association:
1st Place – Editorial Writing: Jacob Gathje, Landon Peterson, Tess Glenzinski, and Emmett Adam
2nd Place – Local Breaking News Coverage: Jacob Gathje
2nd Place – Investigative Reporting: Will Schwinghammer
Jacob Gathje is a Junior at SJU majoring in math. He says The Record plays an important part in campus life.
In some ways, we're the most unbiased news source you can find on campus in that we will report on things that are happening on campus regardless of whether it looks makes the school look good or not. That's not saying we want to go tearing the school down, but we want to be honest with our student body and the faculty and the staff.
Landon Peterson is a Political Science Major at SJU. The Junior is a Managing Editor at The Record. He says the goal of the newspaper is to highlight a diverse set of opinions.
I think we have the privilege of sitting at a place where we have students who write in, we have alums who write in, and we have faculty who write in. Ultimately what flies or what doesn't is really the depth of the opinion (and) that people have things factually correct.
The Record is published weekly and distributed for free on campus at St. John's University and The College of St. Benedict.
---
READ RELATED ARTICLES
Presidential/Vice Presidential Visits to St. Cloud