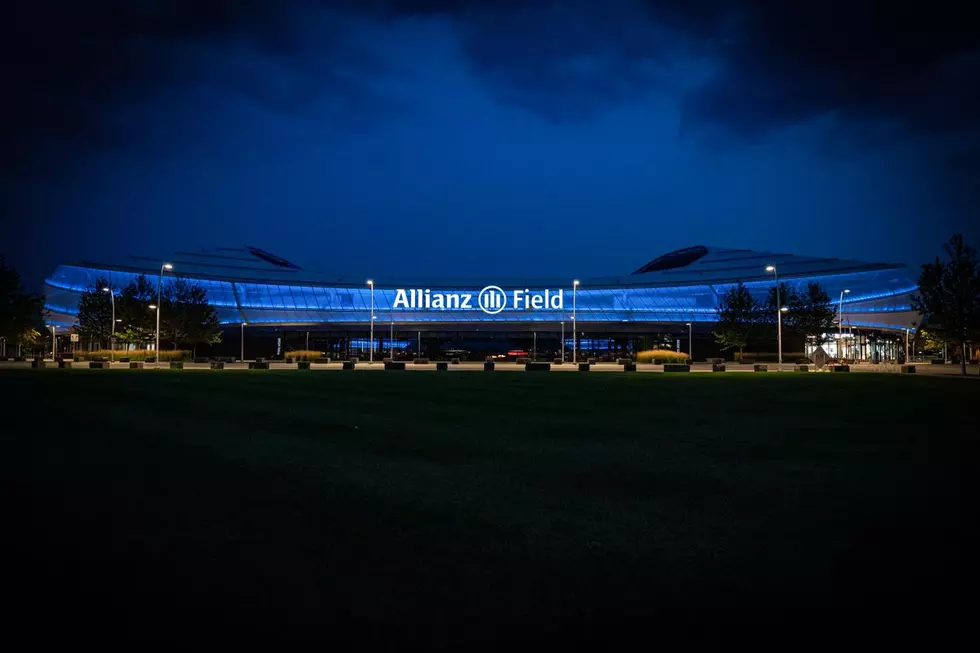 MN's New Allianz Field Ranks Top 10 on List of Best MLS Stadiums (Phew!)
MN United FC via Facebook
A new video from Youtube channel The Wide World of Stadiums has ranked all 24 current Major League Soccer (MLS) stadiums from best to worst. To our relief, Minnesota's new Allianz Field in St. Paul ranked fairly high.
"A few people have asked me to rank the Major League Soccer stadiums," says the voiceover at the beginning of the video. "I was like, 'Nah, it would be a bit controversial.' Then I remembered -- it's a video about stadiums, not a solution to peace in the Middle East."
It's worth noting that the rankings are based purely on the channel's opinions and very little on any studied data or research, as you'll find shortly. Working from the top (worst) down, the video starts with Major League Baseball stadium Yankee Stadium which the Yankees share with New York MLS team New York City FC.
"Well, what can I say," reads the narrator, "it's a mighty fine baseball stadium. But you're in the wrong major league New York City FC. Bless them, it can be confusing -- both sports use balls and play on grass. I can understand how you'd mix them up. Hopefully you get that sorted sooner rather than later."
The video counts its way down, working through stadiums (in some cases NFL or MLB stadiums) in Massachusetts, Texas, Miami, Colorado, Nashville, Montreal, Vancouver, Chicago, Salt Lake City, California and more. Coming in at No. 7 is Minnesota's own Allianz (pronounced All-ee-ahnz) Field. "The first word that springs to mind when I see this stadium is 'sleek'" says the narrator. "It is a very new stadium, so I guess you'd expect that." Built in 2019 in St. Paul, the narrator also notes the stadium's European inspiration, admiring the dipping roof canopy and comparing it to Aviva Stadium in Dublin.
Here's the full ranking of all current 24 MSL stadiums according to The Wide World of Stadiums:
24. Yankee Stadium, NYC New York (New York City FC)
23. Gillette Stadium, Foxboro, MA (New England Revolution)
22. Toyota Stadium, Frisco, TX (FC Dallas)
21. DRV Pink Stadium, Fort Lauderdale, FL (Inter Miami CF)
20. Dick's Sporting Goods Park, Commerce City, CO (Colorado Rapids)
19. Nissan Stadium, Nashville, TN (Nashville SC)
18. Stade Saputo, Montreal, Canada (CF Montreal)
17. BC Place, Vancouver, Canada (Vancouver White Caps)
16. Soldier Field, Chicago, IL (Chicago Fire)
15. Rio Tinto Stadium, Sandy, UT (Real Salt Lake)
14. Dignity Health Sports Park, Carson, CA (LA Galaxy)
13. Subaru Park, Chester, PA (Philadelphia Union)
12. Red Bull Arena, Harrison, NJ (New York Red Bulls)
11. PayPal Park, San Jose, CA (San Jose Earthquakes)
10. BMO Field, Toronto, Canada (Toronto FC)
09. Audi Field, Washington D.C. (D.C. United)
08. Lumen Field, Seattle, WA (Seattle Sounders)
07. Allianz Field, St. Paul, MN (Minnesota United)
06. BBVA Stadium, Houston, TX (Houston Dynamo)
05. Providence Park, Portland, OR (Portland Timbers)
04. Exploria Stadium, Orlando, FL (Orlando City)
03. Banc of California Stadium, Los Angeles, CA (LAFC)
02. Children's Mercy Park, Kansas City, KA (Sporting Kansas City)
01. Mercedes-Benz Stadium, Atlanta, GA (Atlanta United)
Three stadiums that did not make the top 24 list but are currently under construction and did earn mentions are Columbus Crew Stadium in Columbus, OH; Q2 Stadium in Austin, TX; and West End Stadium in Cincinnati, OH.
Have you been to Minnesota's Allianz Field? What do you think?
Best St. Cloud Rox Players