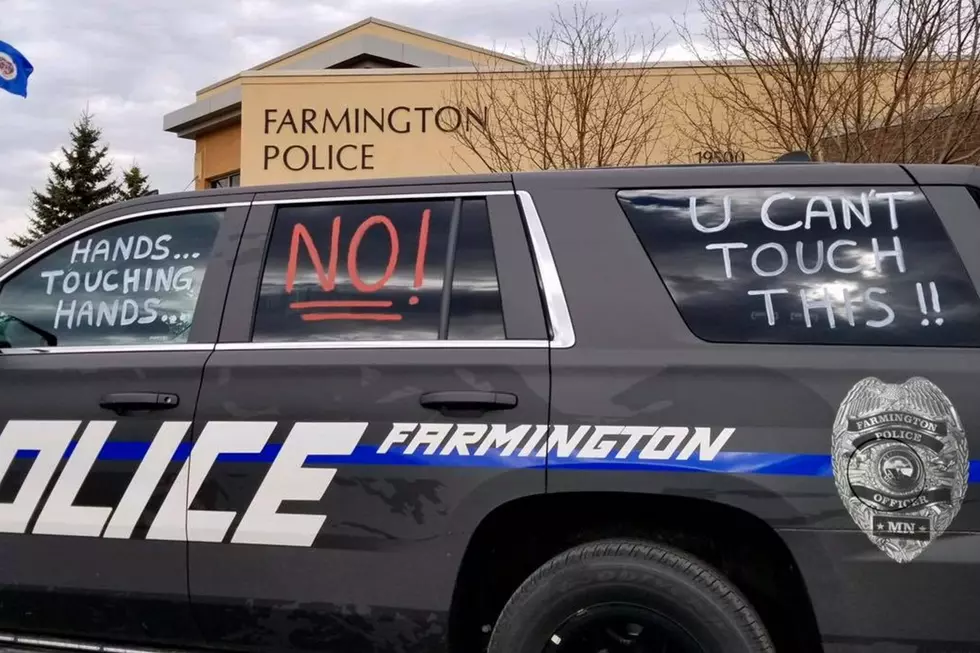 MN PD Bringing Smiles with Clever Use of Coronavirus Song Lyrics
Farmington Police Department via Facebook
While the current COVID-19 reality is certainly cause for concern, one Minnesota Police Department is using the magic of music to bring a little lighthearted humor to its community.
Over the past couple weeks, the Farmington PD has garnered some attention in the community and online for its clever use of song lyrics to address coronavirus precautions.
"Don't stand. Don't stand so. Don't stand so close to me," the department wrote on a department vehicle's windows, referring to the song "Don't Stand So Close" by (ironically) The Police.
In a recent photo, the Farmington PD mashed up Neil Diamond's "Sweet Caroline" lyrics with MC Hammer's "U Can't Touch This."
The local community, of course, has loved the antics.
"In this stressful time it's nice to see our police officers still have their sense of humor!" commented one on the Farmington PD's Facebook page. "Stay safe and healthy Farmington PD. Thank you for keeping us safe!"
"Thank you for the laugh," commented another. "Please stay safe and hopefully this will be over by summer."
We don't know about you, but we're looking forward to seeing what song lyrics Farmington Police Department use next in their fight against COVID-19!
How have you seen your local community bringing a smile to faces during this time?
Enter your number to get our free mobile app
5 Skills You Can Learn Online for Free During COVID-19 Quarantine