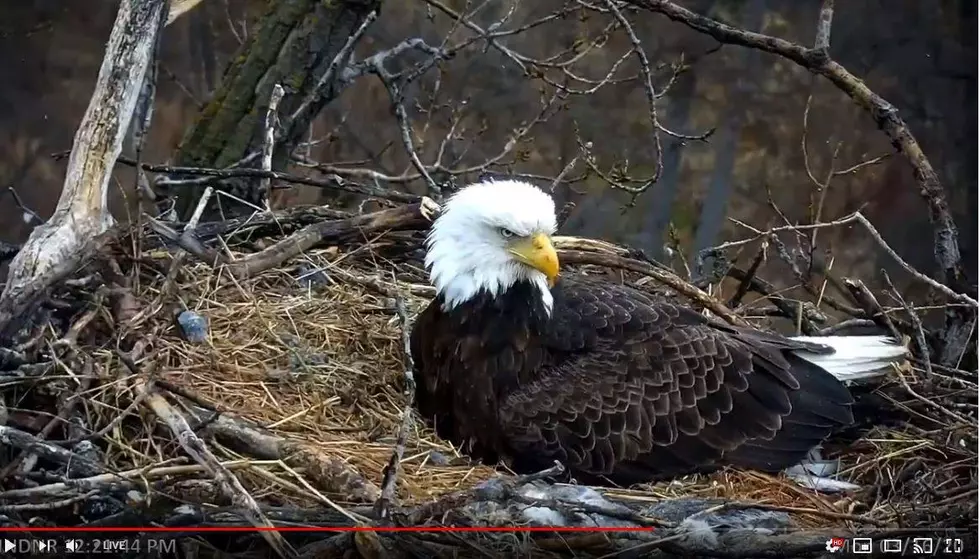 MN DNR EagleCam Captures First Egg In Nest
Minnesota Department of Natural Resources via YouTube
The Minnesota Department of Natural Resources has a really cool way for you to get insight into the life of an eagle without having to leave your couch.
EagleCam
The eagle mama has been busy sitting on her egg, keeping it warm during these frigidly cold temperatures. In fact, if you check out the EagleCam right now, you'll notice that the nest is covered in a thin layer of snow, and the mother has a small layer building up on her back as well.
There's not a lot of activity going on in the nest as we wait for the egg to hatch. Typically it takes about 35 days to hatch from the time the egg is laid. Some of us will be totally glued to the screen over the next few weeks until the eaglet arrives. We're hoping there will be more eggs to come.
In order to keep you productive at work during this joyful time [lol] the DNR will periodically post clips of the most exciting happenings of the day on their website. Yes, you can totally still go to your work meeting without fear of missing out on the baby eagle hatching.
This is a really cool way to teach your kids about nature and learn a little more about our national bird. You can also sign up for the DNR's EagleCam newsletter and email updates so you're constantly in-the-know.
Get ready for spring, this might just be the ultimate sign of better weather ahead.
https://www.dnr.state.mn.us/features/webcams/eaglecam/index.html