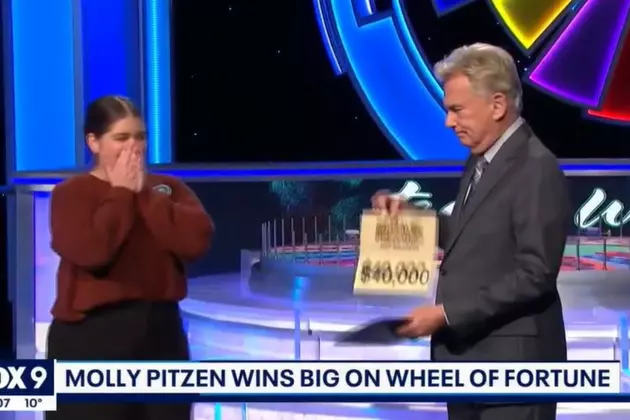 Minnesota Teen Wins Big On "Wheel Of Fortune"
Fox9.com
MINNESOTA GIRL WINS BIG
Have you ever wanted to be on a television game show? Which one would you pick? I've always wanted to meet Bob Barker and take part in 'The Price is Right,' and I think my other pick would be 'Wheel of Fortune,' although I think the pressure of having to figure out the puzzle in front of millions of people would freak me out. However, when I watched this video, I was so excited for this high school student from Rosemount, who didn't just THINK about doing it, she actually made it happen.
MOLLY PITZEN
Molly Pitzen, a 10th grader from Rosemount High School, was a contestant recently on the popular television game show Wheel of Fortune during Teen Week, and boy did she ever walk away with a win of almost $65,000!
SCROLLING ON INSTAGRAM
Molly Pitzen says she was just scrolling through Instagram when she saw an ad that they were looking for contestants, so she just went for it.  Her suggestion to others is to "Just do it." If she hadn't just signed up she wouldn't have had the opportunity to appear on the show and win.
WORDL AND WHEEL
She has been watching Wheel of Fortune with her family since she was a little kid. Molly also credits playing Wordl for her victory.  Molly didn't realize how much money she really won until Pat opened the envelope. She said it really clicked for her when she was off-screen and plans on spending most of the money on college, but also wants to donate some of it to charity.
Watch the video below to see Molly win big.
8 Field Trips All Central Minnesota Kids Went On
Bits O Bacon Chocolate Chip Cookies
The 5 Animals Most Likely to Cause Your Death in MN