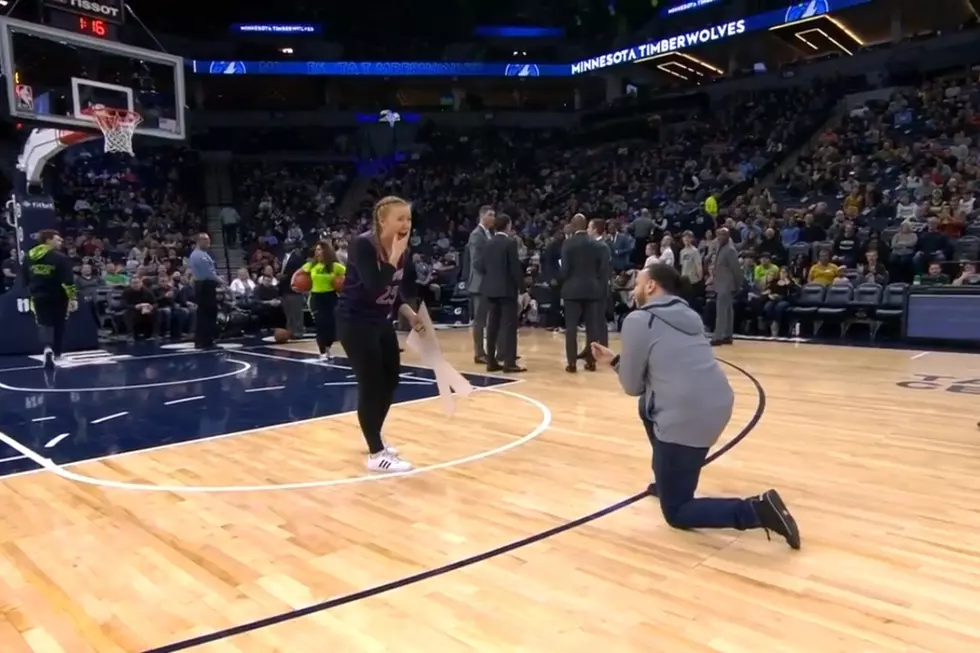 Minneapolis Man Proposes to Girlfriend at Timberwolves Game [WATCH]
Minnesota Timberwolves via Facebook
Talk about ending the year with a bang!
When Sonja Muus' boyfriend Todd P. Western IV of Minneapolis took her to a recent Timberwolves game at Target Center, she had no idea she'd be going home his fiance.
In a video posted to social media Monday by the Timberwolves, the couple are seen competing against each other at half time in an epic game of tic-tac-toe. The prize -- they were told -- was $1,000. What Sonja didn't know was that the whole contest had been arranged, and Todd was actually going to propose to her.
Todd, clearly pacing himself, lets the contest drag out a bit, waiting until they've each placed a letter on the board. Then, while Sonja's at the other end of the court, he makes his move. As she sinks a basket and turns to place her letter on the board, she finds her boyfriend at the three-point line down on one knee with a ring in his hand.
Her look of shock says it all.
Congrats to Todd and Sonja, and here's to a happy 2020 indeed!
Enter your number to get our free mobile app