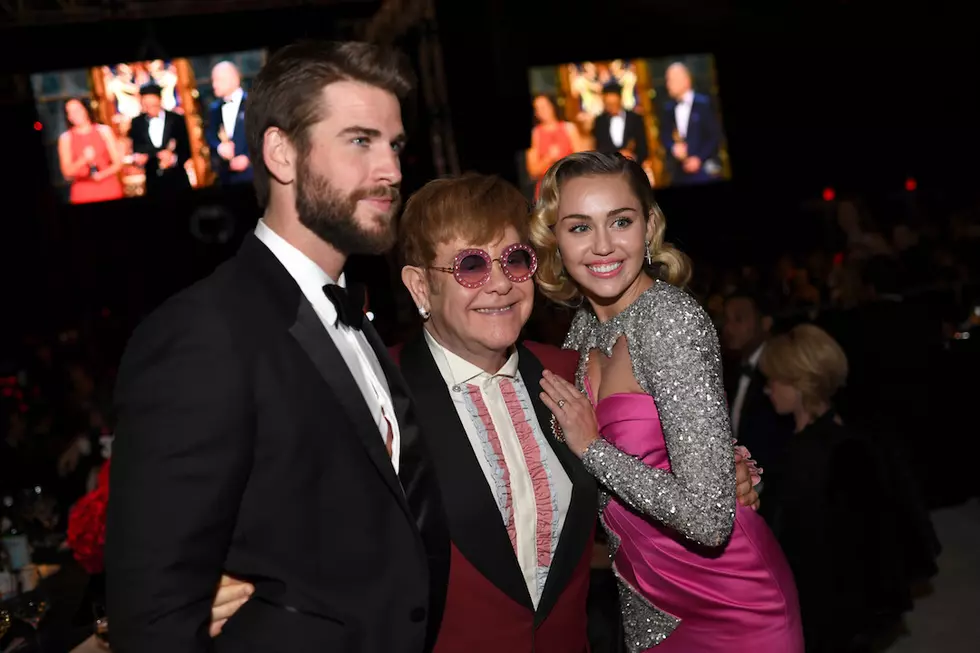 Miley Cyrus and Liam Hemsworth Watched the Oscars With Elton John
Dimitrios Kambouris/Getty Images for EJAF
Miley Cyrus and Liam Hemsworth have been keeping a low profile after rekindling their relationship, but the couple made a rare public appearance on Sunday (March 4) to attend Elton John's 26th Annual Academy Awards Viewing Party.
The West Hollywood soiree may not have been intimate (there were 1,000 guests in total) but Miley made sure to get some time in with her "favorite men," tweeting a photo of herself with her beau and host of the evening.
The couple later attended the Vanity Fair Oscars afterparty, where Liam sported the same tux and Miley switched out her silver and pink gown for a glamorous black and gold ensemble. Of course, those photos also had to be documented, because duh.
Miley and the legendary pop star have shared quite a bond in recent years. The duo famously performed "Tiny Dancer" during the 60th annual Grammy Awards this year and Cyrus was one of many artists to help pay tribute to Sir Elton John as part of I'm Still Standing: A GRAMMY Salute.
Elton John was able to raise $5.9 million for his AIDS foundation during his Academy Awards Viewing Party, which included both a live auction and chance for attendees to text pledges.
2018 Academy Awards Red Carpet Photos