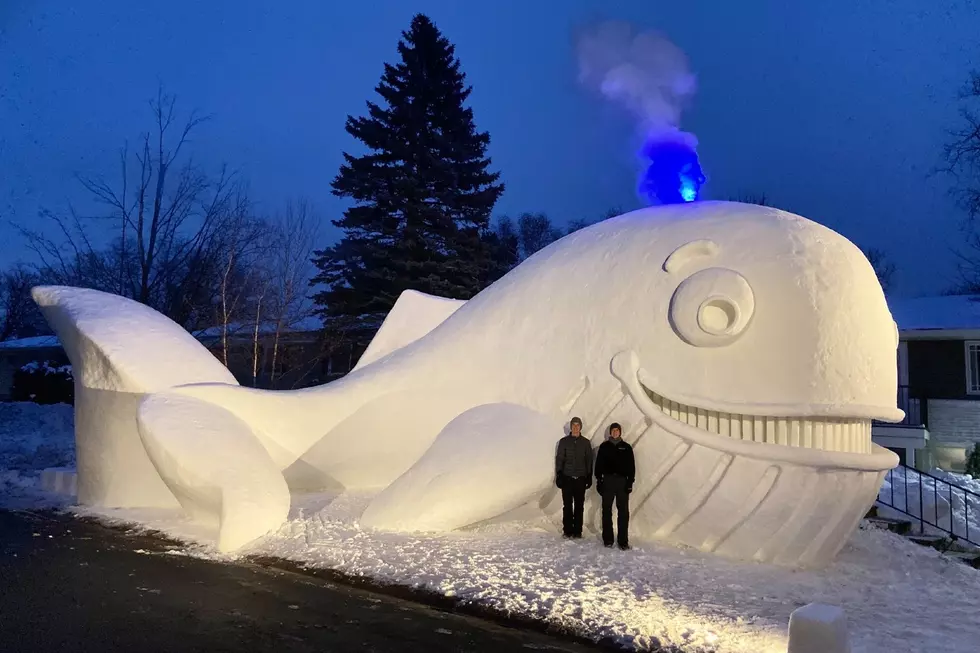 Meet Walvis — This Year's Massive Bartz Brother's Snow Sculpture
Bartz Snow Sculptures via Facebook
The Bartz Brothers have done it again!
For the eight year in a row, the Bartz Brothers of New Belgium have built a giant snow sculpture, and this one's their biggest yet!
This year, they're raising money for the countries of Niger and Uganda. Their hope is that their creative use of water will help to raise funds for access to clean water in these countries. A fog machine planted at the top of Wally will blow for every donation of $25 they receive at their website.
According to WCCO, Walvis took the brothers more than 600 hours and 260,000 pounds of snow to build.
The snow sculptures have made the Bartz home at at 2777 16th Street Northwest in New Brighton a growing attraction the past eight years.
The first year -- 2012, following a giant snow storm -- they decided to build a giant puffer fish. Puffy, inspired by a recent visit to Florida, stood six feet tall and caught the attention of local news outlets.
The following year, they built a 12-foot tall Walrus named Wally. The next year, Sharky the Shark was even bigger. Snappy the Turtle, Octavius the Octopus, Finnegan the Fish, and Diggs the Lobster all followed. Last year's sculpture Slinky the Snail proved a challenge; a period of no snow meant they had to take a break during construction until a local landscape company offered to bring in three dump truck loads of snow. When it was finally finished, the sculpture raised over $31,000 towards clean water in Vietnam!
Follow along with the brothers on Facebook and -- better still -- stop by their house for a photo with Walvis!
Enter your number to get our free mobile app