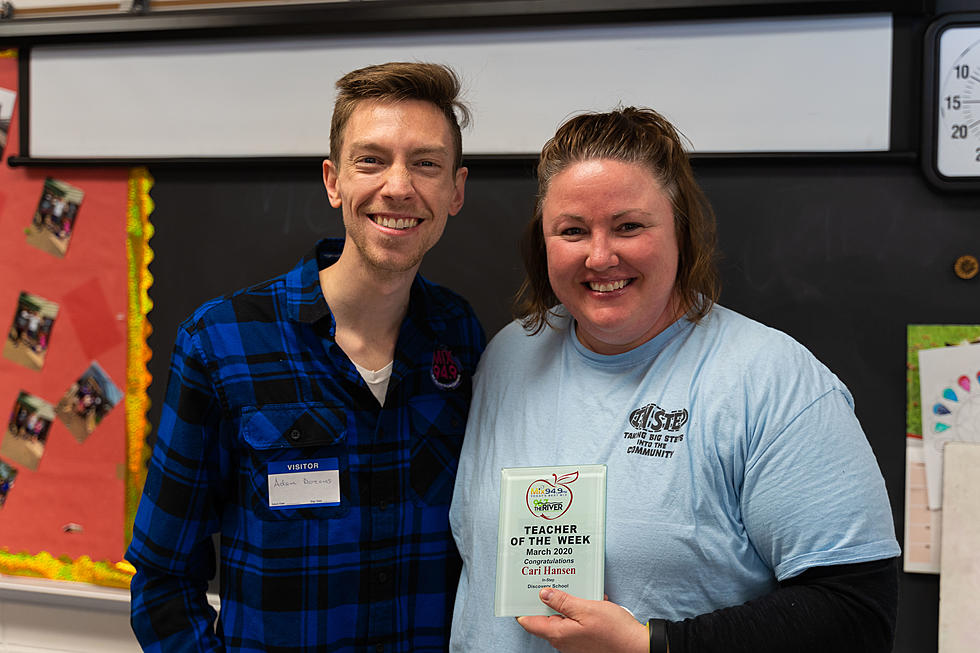 Meet This Week's Teacher of the Week: Cari Hansen of Discovery Community
Ryan Unger 320.293.4970
Congrats to this week's Teacher of the Week Cari Hansen of Discovery Community School in Waite Park!
Cari was nominated by the parent of a student, and it was very evident that our visit was meaningful and appreciated. Here's what Michelle Suarez had to say about her son Tyler's teacher:
There are ten thousand reasons that Cari Hansen deserves Teacher of the Week. Cari is an In-Step teacher at Discovery. A school for students with moderate to severe disabilities that are eligible to continue education services from ages 18-21. Teaching in this program is not easy. This isn't a job. This is a passionate calling. Cari worked with our son Tyler when he was beginning high school so we were super excited that she would be working with him again at In-Step. Over the past 3.5 years the time, emotion and energy that she's invested into her students and our son is nothing less than astonishing. Cari goes above and beyond to learn what each individual student needs in order to learn. If the student is non verbal she ensures that they have the best adaptive equipment available. If the student loves animals she designs her lessons for that individual around animals to engage the student, allowing them to learn and be comfortable. If they need pictures schedules you can bet your last dollar that each day that student will have a picture schedule ready and waiting. Cari makes everyone feel as though they are her favorite! Whenever Tyler is out of school for the day Cari will message us to check in and see how he's doing. She often sends a message of encouragement and a "Hope you're back tomorrow buddy. Everyone misses you". She knows that my son needs to know that he's not being forgotten

Cari does all of this while also taking care of her 6 year old son who is special needs. Numerous times throughout the school year Cari needs to travel to the twin cities to bring her son to specialists. Guess who still doesn't take the day off? Cari! She still manages to check in and see how her students are doing. The entire team at In-Step deserve a huge shout out. I'm not able to pay her or her team for all that they've done for these students, our son or for us, but maybe she can be chosen for this award and get a sweet surprise for all that she gives to others.
Lori Olson, Director of Special Education Programs, also had positive words for Cari:
Cari Hanson is an incredible educator who always is making connections with students and families. She is a creative problem solver and is always looking at ways for our special education students to be in an inclusive environment. Her passion for teaching employment skills shows in everything that she does. She makes learning important and fun and is a wonderful team player that always goes above and beyond to provide our students at InStep an amazing experience! She is a professional of the highest caliber and is gift to our community!
Nominate our next Teacher of the Week at the form below!
Enter your number to get our free mobile app