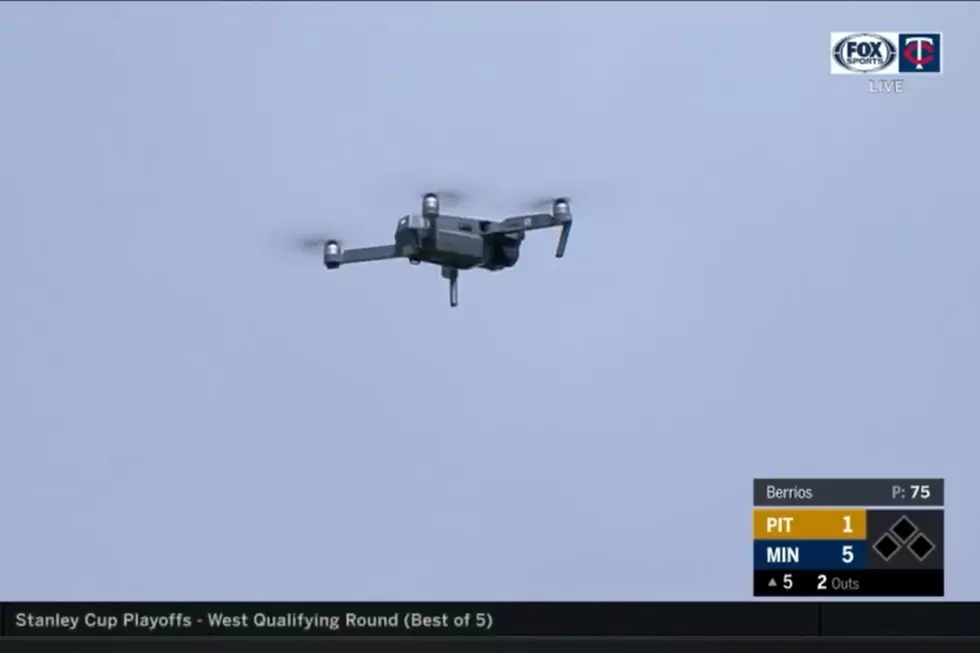 In New First, Twins' Tuesday Game Delayed By…Drone
Fox Sports North
In a new first, Tuesday's baseball game between the Minnesota Twins and the Pittsburgh Pirates was delayed due to a drone hovering over the stadium.
Up 5-1 in the fifth inning, the Twins took an unexpected break from Tuesday's game when a personal drone appeared over Target Field.
"Well I have never experience this before in my life," commented Fox Sports North broadcaster Dick Bremer. "Only in 2020...like we don't have enough to worry about."
Both teams were called off the field by the umpire, citing the drone as a safety issue. Sporting News reports that some players tried knocking the drone out of the sky by throwing balls at it.
Do not interfere with manned aircraft operations.
Yield the right of way to manned aircraft. See and avoid other aircraft at all times.
Do not endanger persons or property. No intentional overflight of moving vehicles or unprotected persons. Fly no closer than 25 feet.
Fly no higher than necessary (less than 400 feet). Remain below surrounding obstacles when possible.
Avoid operations in close proximity to airports. When within 5 miles of an airport, contact the airport/Air Traffic Control (ATC).
Ensure pilot competency/proficiency and the safe operation of the aircraft.
Remain within visual line of sight (VLOS). Use a spotter when necessary/appropriate.
While flying over Target Field is technically permissible, flying over people or vehicles is not, making Tuesday's incident questionable.
For a better example of drone use, check out these stunning videos of Minneapolis and St. Paul filmed at night in the height of Minnesota's COVID-19 lockdown.
Enter your number to get our free mobile app
Minnesota's Most Unique Places To Stay The Night