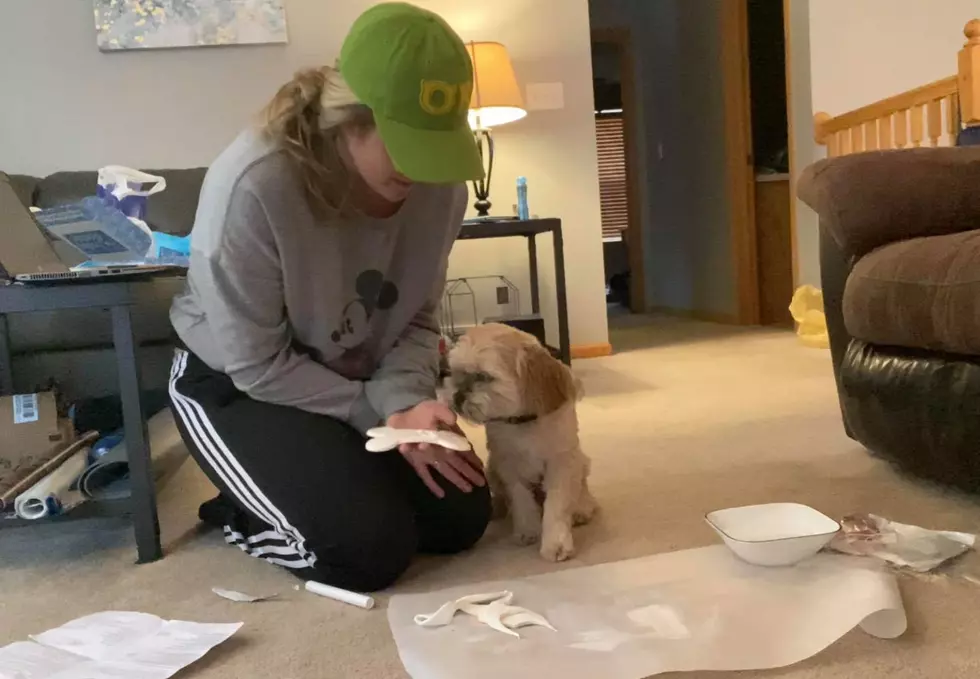 How to Make an Easy DIY Pet Paw Print Christmas Ornament [WATCH]
Abbey Minke
I'm a crazy dog lady. I love my dog Norman like he is a human child and he is incredibly spoiled.
Over the weekend I went to TJ Maxx and found a kit that allows you to turn your dog's (or other pet's) paw print into a festive ornament that you can hang on your Christmas tree. And it was only $5. I'd be losing money if I didn't buy at least one, so I did.
Enter your number to get our free mobile app
The directions seemed simple enough: roll out the air dry clay, press your pet's foot into it and let it dry. But there were a few snafus in that method. There are directions, and I chose to ignore them for the most part, which wasn't the best thing I could have done. If you want to make your own paw print ornament here are a few things to keep in mind:
Roll the clay on a flat surface. Carpet isn't flat.
Any air-dry clay and rolling pin will work. You don't need to buy a kit.
Keep the clay relatively thick. If it's thin the print will warp slightly.
Press your pet's paw into it before you cut it out into a fun shape.
Glitter doesn't stick to it. If you want it sparkly, you'll need to glue it on once it is dry.
Learn from my mistakes. The good thing is that now I know for next year when I decide to do this craft again, because you know I totally will.
Here is the video of my dog Norman and I getting craft and making a Christmas ornament together. Merry Christmas!