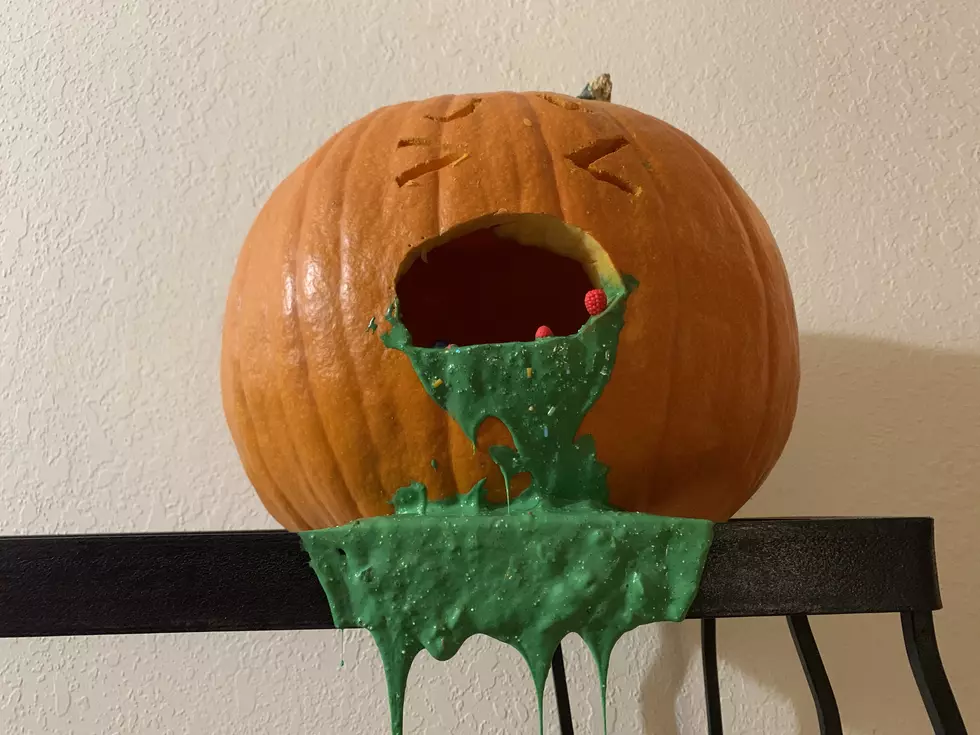 Here's a Gross Pumpkin Carving Idea That Your Kids Will Love
David Black
When you have a creative daughter, you are constantly surprised by the things she comes up with. That is why I go to her for creative ideas -- she has them, and she has them in spades. I am always amazed at the things she comes up with, and I see it more and more the older she gets. Whether it's her paintings, her characters, or designs, she always impresses me.
Enter your number to get our free mobile app
The latest creative idea, of course, revolves around Halloween. We bought a couple of pumpkins (rather large-sized pumpkins), and I was inquisitive to see what she would do with them. The largest is almost 40 pounds, and it is by far the largest pumpkin "canvas" she has had to work with. She hasn't tackled that one yet. Instead, she started with a medium pumpkin at about 20 pounds.
She came up with a cool idea. She saw the "puking" emoji and happened to be playing with slime (that she had made) at the same time. Those two things combined led to this…
The Puking Pumpkin
I know, it sounds pretty gross, but I think it looks really cool. And it is certainly different than almost any pumpkin you're ever going to see. Well, that is, until now. She will probably start some kind of a trend of puking pumpkins -- and by next Halloween they will be everywhere, throwing up slime in your neighborhood.
So let's kick off this trend with her "Puking Pumpkin" recipe. And it's really easy.
Pumpkin Carving
Step 1: Cut hole and clean as you would any pumpkin.
Step 2: Carve squinting eyes with upward curved eyebrows
Step 3: Carve an oval-shaped mouth in the center of the pumpkin. Match proportional to the eyes above.
Slime Time
In a medium-sized bowl, add 4 ounces of any white school glue.
Add laundry detergent until it forms into a slime-like consistency. Take it slow, don't over add.
Add green dye, beads, pumpkin seeds, glitter, or anything you think would make cool looking vomit (we both laughed at that).
Place pumpkin off the ground and put a paper plate or plastic or something below the mouth.
Grab a handful of your slime and place it into the pumpkin's mouth.
That's it. Happy "Gross" Halloween.
Fall Leaves at Saint Cloud State University