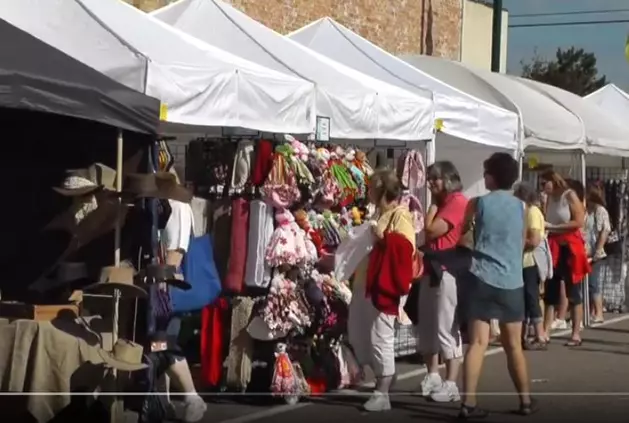 Everything You Need to Know for the Little Falls Arts & Crafts Fair!
AM 1240 WJON via YouTube
If there is one Central Minnesota event I never miss it is the Little Falls Arts and Crafts Fair! I love walking around Little Falls with a giant bag of kettle corn and seeing what all the different vendors have to offer. Here is everything you need to know if you plan on going to the 45th Annual Arts and Crafts Fair this weekend!
When: The event is two days long. Saturday the 9th it runs from 8 am - 6 pm, and Sunday the 10th it starts at 9 am and goes until 4 pm.
Where: Little Falls. With nearly 600 artisits the event consumes Historic Downtown Little Falls!
Where do I park?: You can try to find parking on a side street but that only works if you show up early. Your best bet is to park at the Morrison County Fair Grounds. They will be running a free shuttle bus to and from Historic Downtown Little Falls. Go here for directions to the Morrison County Fair Grounds!
What will I find there?: Almost anything! If you like antiques and collectibles, visit LeBourget Park (West Side of River next to the bridge), if you are into the outdoors be sure to visit the Man Cave on West Broadway, and if you are hungry there will be plenty of specialty foods! Clothing, housewares, jewelry, toys, homemade soaps, indoor and outdoor decor, and so many other items will be featured! Check out the directory here! 
What is the weather supposed to be like?: Sunny and 75. AKA perfect craft fair weather!
Other tips and tricks for success:
Wear comfortable walking shoes, you will be putting on the miles when you go!
Stop at the bank or an ATM before you go. Cash is king there!
Brainstorm your holiday shopping. I know it is really early to think about that but you will find some super awesome and unique gifts at this craft fair!
Fanny packs are hands free and practical. No one will judge you for wearing one. I already have mine laid out and ready to go!
Going earlier in the day will help you beat some of the crowds.
If you plan on doing a lot of shopping bringing a backpack to carry all your stuff in is a great idea!
Bring some water bottles. Dehydration is no fun!
See you in Little Falls this weekend!