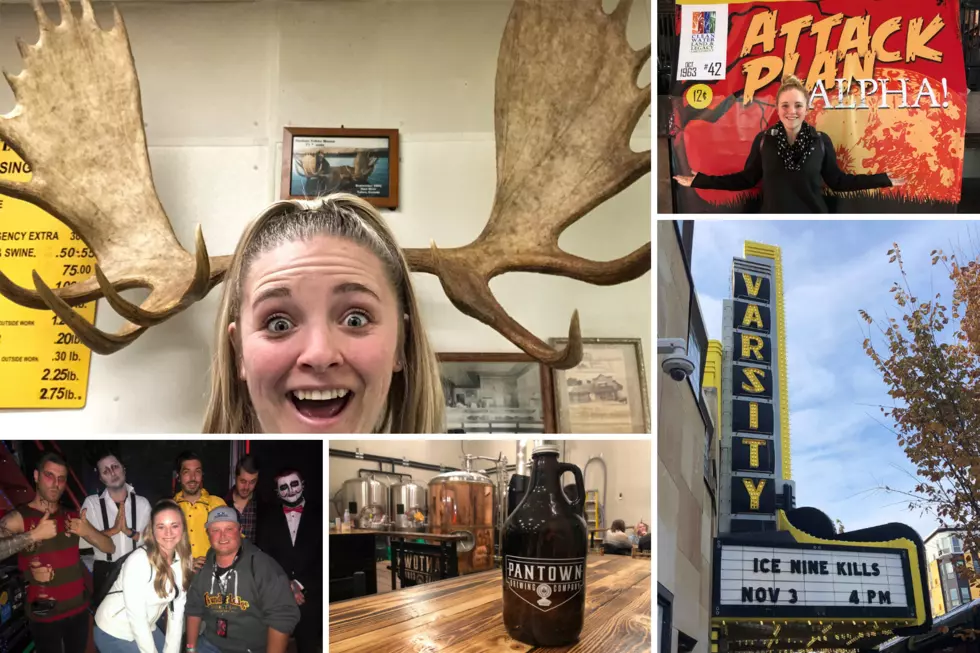 DJ Notebook: Abbey's Weekend in 5 Pictures
Abbey Minke
What a weekend. It as go, go, go for me starting immediately Friday after work.
This past weekend was the first one in a couple months that I didn't have to work, it also just so happened to be my fiance Cory's birthday weekend. Yay! We had it packed to the brim with events to celebrate.
1. Friday Night: Attack Plan Alpha at the Pioneer Place in Downtown St. Cloud
Friday night we went to the second-to-last performance of Attack Plan Alpha. It was a sci-fi/horror/love story play put on by Central Minnesota's own Rough Draft Productions. It was an awesome performance that really showcased how talented and strong the theater community is in our area.
2. Saturday Morning/Noon: Out for lunch in Kimball at Son of a Butcher
One of my fiance's favorite places to eat is Son of a Butcher in Kimball. We made the short drive out there with his parents on Saturday for lunch to celebrate his birthday. We also had to stop at the Knaus Sausage House while we were there. We came all that way. I also had to get a selfie with their moose antlers. Just because.
3. Saturday Afternoon: Drinks at Ultimate Sports Bar and Pantown Brewing Company
We then met up with my finance's best friend to grab drinks at Pantown Brewing Company, and watch the UFC fight at the Ultimate Sports Bar. Lots of laughs and a good time had by all!
4. Sunday Afternoon: VIP concert experience at Varsity Theater in Minneapolis
One of Cory's favorite bands is Ice Nine Kills and as a gift to himself he bought VIP tickets to see them at Varsity Theater in Dinkytown. We got to play "Horror Movie Jeopardy", and hand out with the band for about an hour before the show.
5. Sunday Night: Catching a concert from backstage
Part of the VIP packaged included hanging out backstage with the band, and catching the set from back/side stage as well. The lead singers mom lead us back behind the stage about a half hour before the set where we got to goof around with the band while they got ready to go on and catch the show from the best seats in the house.
What did you do this weekend? Send us your pictures on the Mix 94.9 mobile app!