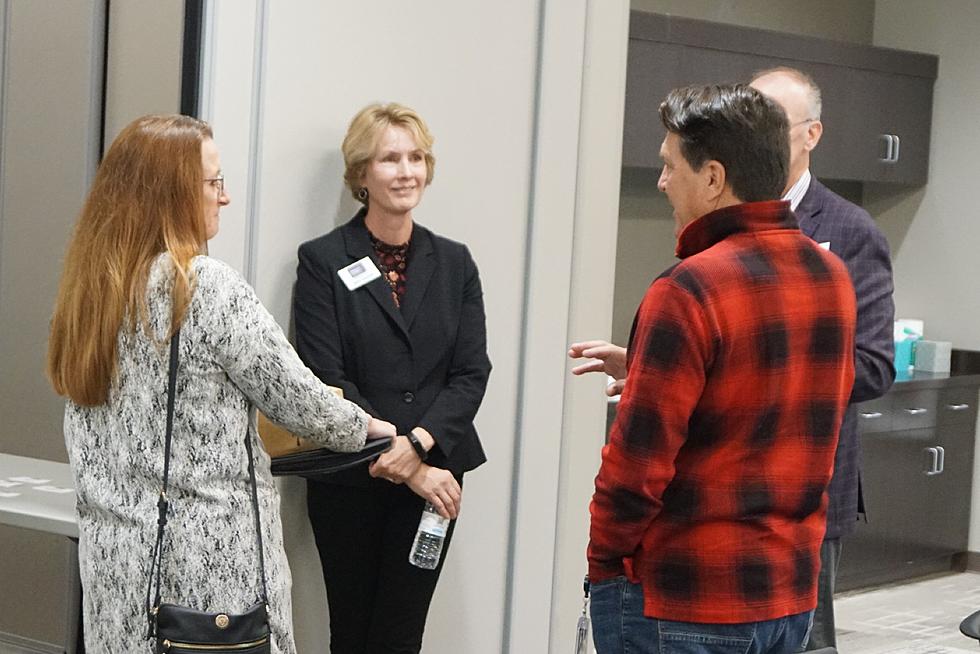 Central MN Businesses Talk Taxes/Regulations in St. Cloud Tuesday
Beth Kadoun (center), V.P. of Tax and Fiscal Policy at the MN Chamber, listens to business leaders in St. Cloud. Photo - Jeff McMahon, WJON
ST. CLOUD (WJON News) - Coborn's played host to representatives from the Minnesota Chamber of Commerce Tuesday in St. Cloud.
Beth Kadoun, Vice-President of Tax and Fiscal Policy for the Minnesota Chamber held a listening session to find the pain points in local businesses.
Kadoun says the new labor rules are top of mind for many businesses in the area.
I know your local chambers have been trying to get information out there on the new laws that were passed (and) the timeline on when they're going to be enacted, but there was just a slew of them. We know a lot of companies and businesses, especially small businesses, are going to be caught off guard.
Julie Lunning, President of the St. Cloud Area Chamber of Commerce, says businesses in the area are trying to understand the new laws and regulations like paid family leave time, and how it fits into their businesses.
There were a lot of things that happened in this last legislative session that are going to negatively affect business. That's what we're reviewing today. Some policies that were well-intentioned on the front side have a detrimental effect on employers on the backside as well as employees down the line. We're still sifting through a lot of these things, and what the impacts are going to be.
Area business leaders had an opportunity to listen to a statewide perspective on business, and add their business's success and struggles to the conversation. In addition to the new rules passed in the last legislative session, taxation was also a common point in the conversation. Kadoun says Minnesota, despite its recent budget surplus, remains a high-tax state for business.
When we tour the state, the top issue we're hearing concern about is the high cost of doing business when Minnesota has high taxes. We have the sixth highest individual income tax rate in the nation, we'll be number one on our corporate tax rate. With another surplus, (is there) another opportunity to say where are we the more uncompetitive? Where are we losing investment because of those uncompetitive costs of doing business?
The Minnesota Chamber of Commerce has several informational pamphlets available with ways businesses can comply with the new laws and regulations.  Find those resources here.
READ RELATED ARTICLES
Come Visit Roscoe, Minnesota with Us in Pictures