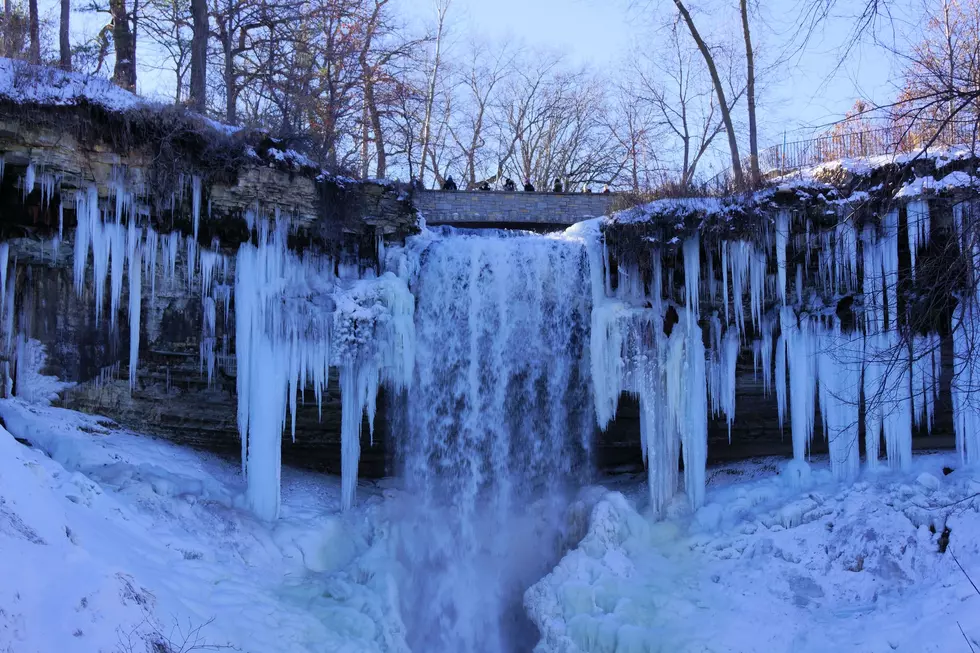 A Trip To This Frozen Minnesota Waterfall is Perfect for Valentine's Day
r-m-1YkaOGyK5Dg via unsplash
Back in 2016, my best friend Nick and I were both single for Valentine's Day so we decided to go on a Pal-entine's Date. We were living in Minneapolis at the time and were hearing how cool Minnehaha Falls was looking frozen solid, so we decided to spend the afternoon exploring it.
Everything was caked in ice. The sidewalks, the railings, the stairs down to the basin of the waterfall, everything. We were dressed for the weather, but not the ice itself, so we were slipping and sliding every which way. Mother Nature was favoring ice over snow that year, and some sort of spike system on our shoes would've been beneficial.
The way the falls froze that year created a wall of ice, and people were exploring the backside of the water, popping in and out between giant frozen icicles. It seemed super dangerous, and as cautious people ourselves we opted for the safer route of observing from a safe, less slippery area.
BigBoyTravel described what it is like behind the frozen waterfall:
After dodging the icicles at the entrance, it is time to free roam in the cave.  The first section it flooded with bright blue light pretty much anytime of day and even turns green from time to time.  As you get deeper into the cave the ice will turn from blue to very distinct stripes of rainbow colors.  Make sure take a few minutes to relax and take in the sound of the flowing Falls.
There is a really nice hike you can take along the river on a well-groomed trail after the waterfall that leads to the Mississippi, and I highly recommend doing that. It isn't very long, and it is a great way to get some fresh air, and away from the crowd that tends to be around the waterfall itself.
If you are looking for something fun to do with your Valentine or your Pal-entine this winter, this is the perfect way to get out of the house. Get all the information on Minnehaha Falls and the park it is in here. 
10 Things Minnesotans Do During a Polar Vortex
8 Things That Show Minnesotans are Tougher than Others